Niles West to 'Stand Against Racism'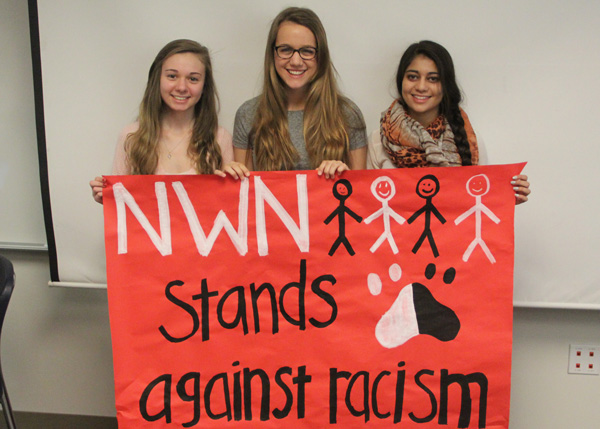 The entire school will converge and Stand Against Racism during a 25-minute homeroom this Friday, April 24. All students, faculty, and staff will stand side by side and form a circle around the school, along the inner drive, in order to demonstrate the belief that we are all one.
Stand Against Racism is a national campaign "designed to build community among those who work for racial justice and to raise awareness about the negative impact of institutional and structural racism," according to the event's website.
"The goal of this event is to show that, as a school, we are unified against racism," director of student activities Katie Odell said.
In addition, members of Students Organized Against Racism (SOAR) as well as five additional clubs — Step Team Club, Student Government, Black Student Union, Niles West News, and NWACE/Wolf Pack — will line Oakton Street with "Stand Against Racism" signs on Friday.
"I want to push people to have this conversation. Many will feel uncomfortable, but sometimes we need people to get out of their comfort zone in order for them to really understand and have empathy for others in order to grow as human beings," junior SOAR member Alexis Jackson said.
Physical Welfare director Joaquin Stephenson, who has helped organize the event and who oversees SOAR with fine arts director Patti Anne Ford and director of equity Corrie Wallace, said SOAR is based on the book, "Courageous Conversations" by Glenn E. Singleton.
"As individuals, we grow as human beings, that growth comes from a stance, a place of disequilibrium," he said. "Meaning that we have to leave out the comfort zone in order to grow as individuals. As a person of color, I knew all my life that racism was not over and this is a constant battle that many people across the world face every single day. As we've seen in a national landscape, on television on social media and in our local newspapers it's very obvious that we aren't living in a post racial society. The power we have in this generation is to make the biggest impact we can when it comes to every person, regardless of race, to regain our humanity."
During fourth period classes, teachers may lead activities addressing the topic. In such activities, students will be asked, "How can you stand up against racism?"
French teacher Elizabeth Hinsinger said she plans to use the Stand Against Racism event to further discussion in her classroom.
"I've already introduced a little bit about what my french three class will be learning on Friday during fourth period," she said. "I had all of them choose a word in French that was significant to their own personal lives about stereotypes and other discriminating things that they dislike or are against and then they created a poster on which they wrote, 'Je Suis Contre,' which means, I am against. We also have our French exchange students here who will be talking about the stereotypes French people have on American people. This is a great opportunity for all individuals to really talk about and share a time they have faced or even inflicted hurtful words onto someone."
The local news and Niles West News will be covering the event.