Do You Want to Build a Plane, Make a Robot, Solve a Crime? Join Science Olympiad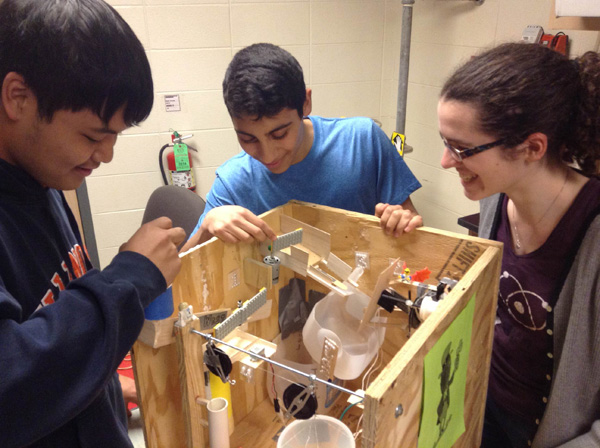 Everyone knows being good at science gets you a good grade at school, but if you want to use that skill for a little more than a research paper, Science Olympiad gives you an opportunity to try your hand at everything from solving a crime scene to building an air cannon.
In a lot of ways, Science Olympiad isn't much different than the worldwide Olympic Games we tune into every four years. The best of the best from Niles West come together to face off against all of the other schools in the state, competing in various events to see who will reign supreme. This time around, however, the events test the competitor's knowledge of a specific subject, rather than athletic skill. Niles West science teacher and Science Olympiad sponsor Michael Boll says the goal of Science Olympiad is to improve the student's understanding of science.
"It's an academic competition," Boll said. "You're being taught all the things you would learn in your science classes, but this time you get to compete against other schools."
The events themselves are very intriguing. Building a plane, learning about diseases, and making a robot are just three of the 23 events you can participate in every year. However, these are not easy activities. Becoming skilled enough to go head to head against other schools takes time and dedication. Having been in the club since middle school, freshman Darby Chamness has event studying down to a science.
"It's a lot about learning the basic general concepts of your event and then amassing a database of all the specifics of it," Chamness explained.
This year, 5 members of Niles West's team came home from state decorated, but while individual students take home the medals, each event is a team effort. Junior Suha Mohiuddin says in Science Olympiad, you do what ever you can to help the team as a whole progress.
"The events are so much fun because you're always working with other people," Mohiuddin said."You have everyone else on the team making sure you get to where you need to be."
Science Olympiad truly is the greatest test for the high school mind. If you think you have what it takes to get a medal, the club meets every Thursday after school in Room 3420. New members are always welcome.