Silverman Retires; Sproat Elected as New President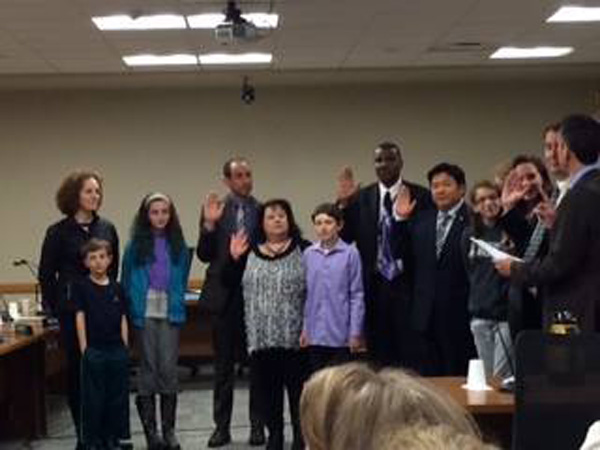 By Sarah Govis
May 7, 2015
District 219's Board President Bob Silverman retired from his position at the school board meeting Tuesday, May 5, after 23 years of service on the board.
At the meeting, the board members, who were elected April 7, were sworn in: Linda Lampert, Brian Novak, Mark Sproat, Carlton Evans and David Ko. The new board then elected officers for the new term. Sproat will serve as president; Lampert will serve as vice president; Novak will serve as secretary; and Ko will serve as pro-tem.
"I have every confidence that our newest Board members will carry on the tradition of educational excellence for the students of our community, and that they will do so in a fiscally responsible manner" Silverman said. "Being a Board member is an awesome responsibility.  And I know that each new Board member will bring something new and unique to this District, and they will continue the legacy of past Boards of Education, and also create new legacies."
Sproat said it was an honor to be voted as school board president.

"It is an honor to be on the board with other members who share the same passion for the district. I look forward to working with the new board, Dr. Gatta, administrators, teachers, staff, and the community," he said. "This experience has been one of the most rewarding endeavors I have ever taken. I have met many wonderful people, who I am proud to call friends. There's a great feeling to be able to give back to the school district in which both my wife and I graduated from.  The whole election has shown me the dedication and love so many people have for our school district."
Sproat's daughter, sophomore Casey Sproat said she was proud of all of her father's accomplishments.
"I'm super happy for him. I know he's been working super hard to be where he's at now, and I know he will help bring great improvement," Casey Sproat said.
Silverman stated personal reasons for his retirement.
"This has been a difficult year for the Silverman family, that's for sure. From health issues to dramatic increases in my career responsibilities. I simply don't have the time to devote to this Board as I once did," he said. "I have every confidence that our newest Board members will bring much good to this district."
Silverman's retirement will be in effect as of June 1.