Aca-Auditions Held Next Week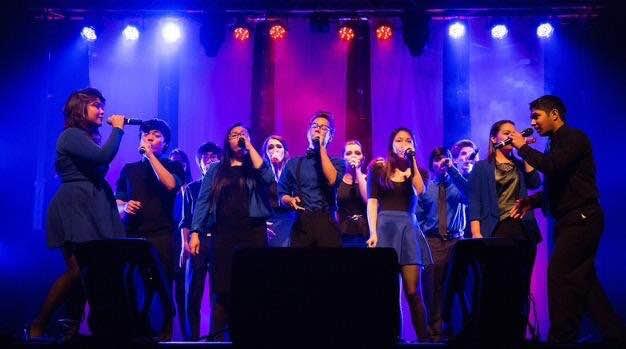 By Thea Gonzales
August 14, 2015
Auditions for Niles West's a cappella groups are rapidly approaching: trebles and basses on Monday, Aug. 17 at 7:00-8:30 PM and altos and sopranos on Wednesday, Aug. 19 at 6:00-9:00 PM. Packets can be found on the home page of nileswestchoir.com!
If you haven't heard any of the extracurricular groups perform yet, your ears have been missing out. Every fall, Amy Branahl, director of the choral department, and the directors of the three groups — Guys and Dolls, High Fidelity, and Echo Effect–hold auditions for coveted spots on the talented and welcoming ensembles.
Each group has a different voice arrangement: Echo Effect has basses and tenors, High Fidelity has sopranos and altos, and Guys and Dolls is a co-ed group with all voice parts.
In the past, Niles West a cappella groups have been successful in ICHSA (International Collegiate High School A Cappella) competitions and performed with Grammy-award winning artists, some of whom have been featured on the The Sing-Off, an a cappella competition on NBC.
For anyone looking for a supportive group of friends or a place to progress in musical excellence with others who share the same goals, the a cappella ensembles are arguably the closest-knit and hardest working groups at Niles West.
"It's one diddly dang fun and amazing experience. You won't regret all the cherished memories with your new fam,"  junior and member of Guys and Dolls, Jimbo Pestano, said.
As an added bonus, it's a universally known fact that singing is attractive. "Girls like guy singers," senior and member of Echo Effect, Brendan Tiongson, said.
Still nervous about auditioning? Every person in the audition room is probably feeling the exact same way. As junior and Guys and Dolls member Deborah Kim said, "It's always worth a shot and there's nothing to lose."
For upperclassmen Deborah and Richmond, who have been in groups since their freshman years, growing up through the program has been life changing in more ways than one.
"Being in an a cappella group is an amazing experience that challenges you as a musician and helps form bonds with those who love to create music," senior and member of Echo Effect, Richmond Landicho, said.
With her years of experience in music and the fine arts, Branahl has been around to witness scores of singers unlock true strength and confidence through the yearly cycles of a cappella groups. Her mantra that "anyone can learn music" remains ever-present in the encouraging talks she gives to students.
"It's amazing to see how much work goes into creating one song of music with just all voices, and I think that's why a freshman or someone brand new to the program should want to audition because it gives them an opportunity to try something new and to get involved in a really cool setting of people who are all working together to put on a great performance," Branahl said.
For more information on auditions, e-mail Amy Branahl at [email protected] or visit nileswestchoir.com.