Meatheads Fills Hearts and Stomachs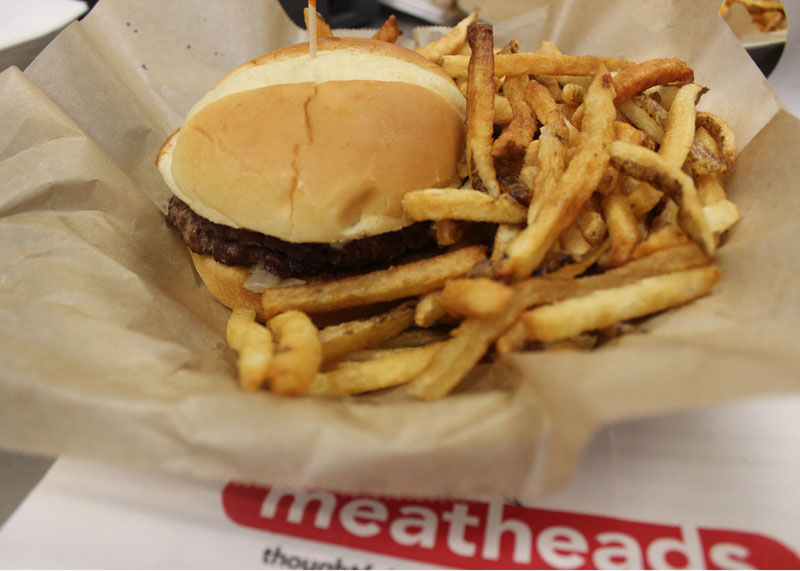 By Thea Gonzales
August 18, 2015
On the corner of Lincoln and Crawford street in Lincolnwood, you might catch sight of an intriguing building: all dark, warm right angles and separated sections of honest, inviting glass. With its unique outward appearance, Meatheads sets itself apart from other fast-casual restaurants right off the bat, foreshadowing a distinction that can be found anywhere from its food to its service.
"In terms of the food, it's some of the freshest in the fast-casual industry…fresh, made-to-order, all-natural, never-frozen food. We're a company that chooses to pay a little bit more for the products that we serve to put a better product on your plate," Area Director, Nancy Geden, said.
Meatheads serves a variety of well-made meals that range as far as its 1/3 lb burger (two patties) and signature sandwiches to famous Cajun fries and hot dogs. In addition to the excellent food, Meatheads maintains its mission statement by fulfilling the second half of it: thoughtful food by caring people.
"[Service] is thorough, quick, and hopefully a positive experience to everyone who comes in through our door," general manager Jasmin Jarlego said.
"The service is friendly, outgoing, efficient. We want to provide a full-service experience in a fast-casual setting. That means, after you get your food, you need a fork and a knife or a side of ranch? We should be accommodating you," Geden added.
Upon first entering the building, customers are struck at once by how much identity is ingrained within the restaurant. On the wall that faces customers as they come in is a giant collage filled with images of neighborhood street signs, local businesses, and even schools — you guessed it, Niles West's football field is there, too (and their banner actually hangs in our contest gym). If you find yourself bopping your head to the music as you wait for or enjoy your food, know that every single song was handpicked to promote Meatheads' positive, family-friendly atmosphere. 
Meatheads is also known not only as a family restaurant but as the local teen hangout; high school and college students receive a free drink with any purchase (so remember your ID when you're going out). There's even Curbside Pickup, which allows customers to call ahead while employees prepare and bring food to them. The casual atmosphere and friendly service only add to the allure of the food, which is wholesome and filling.
If excellent food and service aren't your thing, you have to at least admit that Meatheads has heart. Ever since its opening, Meatheads in Lincolnwood — as well as every other Meatheads — has become actively involved in the community in which it inhabits.
"I think the genuine service that we provide inside the four walls and the care for the community is what sets us apart from other fast-casual restaurants. We're not a company that just puts up statements on a wall or uses words like 'integrity' or 'community involvement' and doesn't follow through with it," Geden said.
Not one to shy away from aforementioned integrity, Meatheads has sponsored sports programs and little league teams since the day it opened, as well as literacy programs like Voracious Readers– in which kids 13 and under read five books and get a free burger– to encourage lil' meatheads to be active and active readers. Whenever a new location opens, Meatheads hosts charity days, regularly reserving its second floor for students to use as a study hall on certain days of the week.
"We live and breathe three 'take care's: take care of our customer, take care of each other, and take care of our restaurant. We do take care of a lot of things, including our community by making sure we're a big advocate of reading programs to the kids. Those are important to us– that we're a part of the community…In every Meatheads, we make sure that we're a part of sporting events and schools because we believe that kids really are our future," Jarlego said.
Looking for thoughtful food by caring people? Grab your student ID and head to Meatheads any time from 11 AM – 10 PM all week.