Girls Cross Country 2015 Preview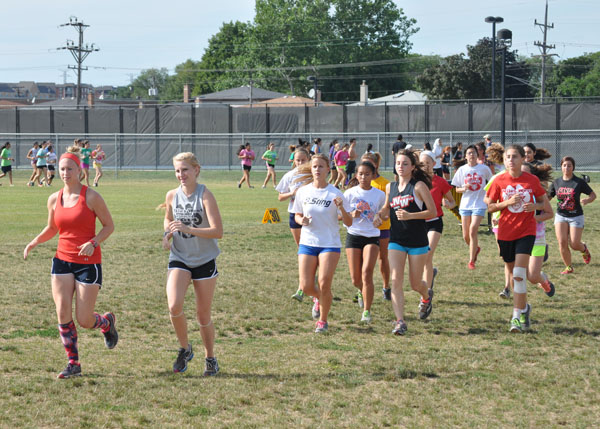 By Shannon McHugh
August 20, 2015
The Niles West News had the opportunity to sit down with the girls' Cross Country coach Anne Heselton and ask her how she intends on getting her girls back in shape from their long break of summer vacation.
NWN: How is the team looking to be this year?
Heselton: We are off to a great fun start! Something that is awesome about this year is that we had a huge turnout of 80 girls that are closer than ever.  Since the girls need to get use to having a full school day with practice, I make the girls hydrate and eat throughout the day to make sure they can make it through the practice staying healthy.
NWN: Who are some key players who will contribute greatly to the team's success?
Heselton: We have our strong senior returners Kathleen Park, Nicole Camburn, and Danielle Karp who have great energy and are leaders. Also, we have a strong running freshman Diana Panoutsos who runs at a respectable varsity pace.
NWN: What are you doing to prepare for the season?
Heselton: Since we have such a large group, we split up the girls in groups and have our seniors lead them. We work on form, strength, and flexibility drills to get the girls in their top shape.
NWN: What are your goals for the team?
Heselton: A lot of the girls have their individual goals as in beating their times and making all-conference. I am in hopes of having the girls improve individually on their skills and enjoy themselves throughout the season.
The girls first meet takes place Tuesday, Sept. 1 on our home turf!