Students Walk Out for Collective Bargaining Rights
By Rozy Kanjee
March 17, 2011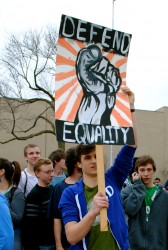 Holding signs that read "Teachers+Students=Solidarity" and "Union Rights are Human Rights," more than 300 Niles West students walked out before 8th period yesterday to support collective bargaining rights not only for District 219, but Wisconsin, Indiana, and 22 other states.
Seniors Alex Knorr and Eric Krikorian, two of the creators of Peacefest @ West, organized the student walkout that lasted all of 8th period in protest to the cuts being made in collective bargaining nationwide. The students who participated in the event said they wanted to "send a message" to the administration and government that their beliefs on collective bargaining and union rights deserve to be heard.
"What's happening in Wisconsin and all over the country isn't right, it's basically a war on the middle class," said Krikorian. "Taking away bargaining is potentially eliminating the middle class, and I know it's affecting me and my family."
As the bell rang in between 7th and 8th period, students gathered together to make their way to the front entrance where they walked out of the building towards the sidewalk on Oakton Street. As people drove by, they chanted, cheered for every honk horned, and waved signs conveying their beliefs.
Senior Emily Blankenheim said, "I plan on going into education for a career, and I feel the need for union rights to protect the workers and people of this country. Taking away these rights is un-American."
According to Knorr, when students became first aware of collective bargaining , it wasn't long after that they decided something needed to be done. Skokie Patch interviewed Krikorian and Knorr about the walkout, and the publicity encouraged the organizers to solidify their plans.
"This, my friends, is a preemptive strike. A strike to stop the need for future strikes," said Knorr in a Facebook group, "Walk Out Day, Students For Teacher's Right."

"Every kid counts. Even one person participating in the walkout can make a little bit of a dent," Knorr said.
Many students said they were protesting for the teachers who were on the list to be laid off for the upcoming year.
"I support the teachers' union and want our future students to have all the opportunities that we were so lucky to have," said senior Jeric Agnes.
Students said they were pleased with the amount of people who participated in the event.
"I'm surprised at the turn out," Blankenheim said. "It really shows how united we are, and I have so much pride in our school."