Meet Me in a Minute: Mr. Chris Schwarz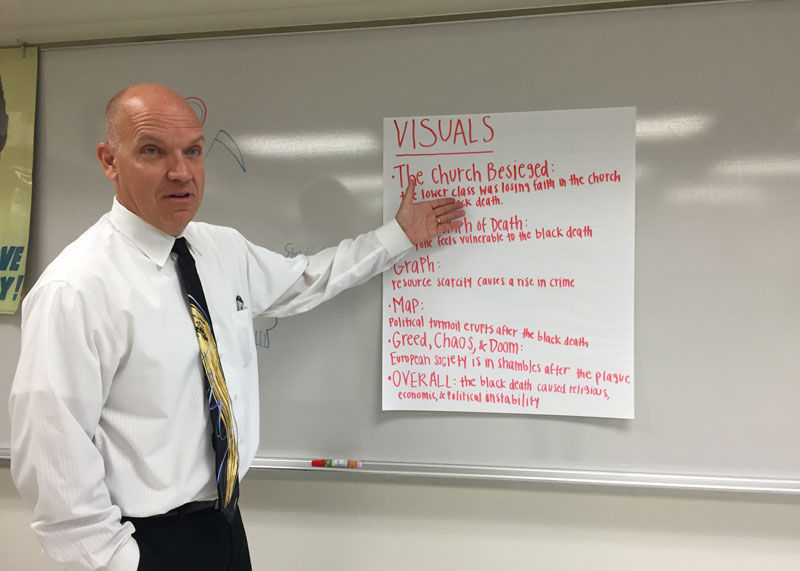 By Sarah Govis
August 25, 2015
Every morning at 8:10 A.M., history teacher Chris Schwarz starts class by joking around with his students. When senior Carly Kenney asked if he knew what color his tie was, after learning he was colorblind, he responded with, "Carly, you are so obnoxious." He then explained that his wife picked out his ties, and added that she picked out a tie that didn't match his outfits if she was upset with him.
However, his dream initially was not to be a teacher, but a reporter.
"I certainly didn't plan on being a teacher when I was in college. I was in broadcasting. I didn't envision myself as a high school history teacher. It just struck me as a good fit from the get go. If you asked me what I wanted to do in high school, I was either going to be the president of the United States or work for a major league baseball team. I had zero plans in the works, but I had a lot of history and had done very well," he said.
There were several reasons he strayed from the path to become a reporter.
"In journalism, I thought there was more to the story that I couldn't tell and over time it became clear to me that my worldview and interests were best suited for the classroom," he said. "It wasn't something I was determined to do at a young age, though."
Schwarz was always involved with his community and his school growing up.
"I played baseball in high school and college, I was heavily involved in student government, I was the president of my senior class in college, I was in radio through college, I broadcasted the football games in college, I did the frat thing, and I was student council president and all that stuff," he said.
The history teachers he had through both his high school and college career were part of the inspiration to become a teacher.
"The more I thought about the teachers that inspired me the most throughout my education especially in high school and college were the history people," Schwarz said.
His goal after becoming a teacher was to show his students how important history can be.
"I learned the value of the discipline and I felt like I could do it, too," he said. "I could be the next generation of showing students the value of studying history."
He has only ever taught at Niles West in the 25 years he's been teaching, "It's one of the best things that's ever happened to me," he said.
Along with teaching, he is still able to work on his writing career.
"I have my own writing career, as modest as it is. I've had time to write because of this job. I'm grateful to do this every day and I hope it shows in the way I teach," he said.
Because of his career, he has been able to forge relationships and friendships with many people.
"I work a lot with new teachers. The one thing I tell them is all the wonderful things that can happen to you in this profession. I've developed friendships and relationships with people that are as important to me as family," Schwarz said. "I've worked with some truly remarkable young people, and I'm glad I can have a relationship with them 20 years later. I've been able to go places and meet people I never thought possible."
His ability to joke around with this students is appreciated by his students.
"I like how he jokes around a lot and doesn't take things too seriously," senior Caitlyn Beutelspacher said.
The way he relates to students is also a huge positive.
"He's very knowledgeable and knows how to relate history from hundreds of years ago to 17 and 18 year olds," senior Kaylie Dyer said.