Meet Me in a Minute: Sra. K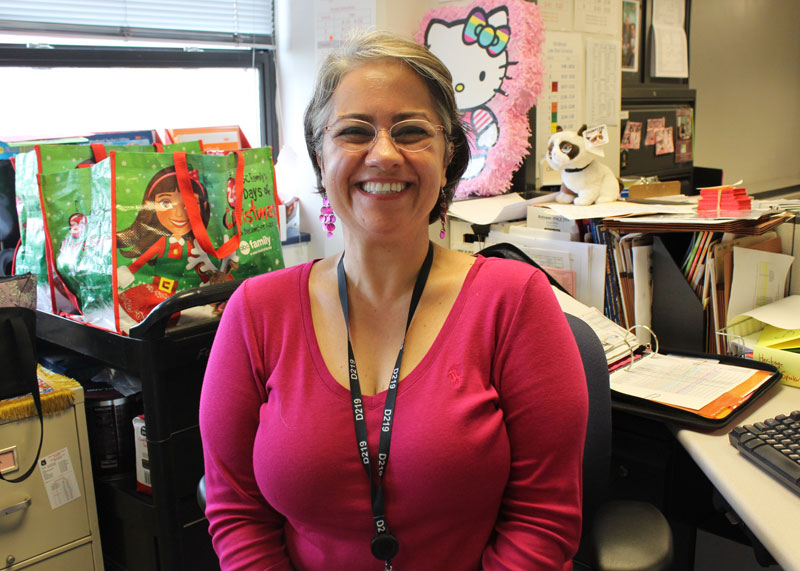 By Thea Gonzales
August 27, 2015
From the frames of pink glasses that reveal her knowing eyes to the vivid colors of her sandals-of-the-day, Señora Karimighovanloo outfits hint at the vibrant person she truly is once you get to know her.
Growing up between two different cultures was an experience that exposed her to the richness of life on earth as a young child. Because of her encounters with both Spain and Iran, Señora Karimighovanloo  has become a woman of many worlds, able to find meaning in things from different perspectives.
"My parents both spoke their own language. At home, we spoke Farsi to my dad, Spanish to my mom, and when I was a kid, I lived in Iran and vacationed with my grandparents in Spain. My parents met in London, so they spoke in a very awkward English. Since I would spend the summers with my grandparents in Spain and winters in Iran, I just thought it was natural," Señora. K said.
This year marks her 17th year teaching at Niles West, a school she originally was hesitant about joining. At first, she compared the building's architecture to her own high school, Evanston Township High School and found it "more like a hospital than a school." Now, after more than a decade of teaching Spanish here, she laughs at how she thought back then and finally admits, "It wasn't me who chose Niles West. Niles West chose me."
Señora. K also has a penchant for cats that seems unlikely until you look at the slides in her class presentations or visit her office with its Hello Kitty piñata and Grumpy Cat plushie observing from on high. She actually has a Persian Teacup cat called Mr. Toby O'Malley, who was named after Mr. Thomas O'Malley of the Aristocats.
Another thing that Señora. K loves to talk about is Maleficent from the story of "Sleeping Beauty." On the first day of her Spanish classes, she will often point out a picture of Maleficent and say, "it's okay if you call me Maleficent. I think she's great." To many people who are familiar with the original telling of the story, Maleficent is a paradigm of evil– even her name is indicative of her villainy. However, Señora. K finds the beauty in Maleficent's nature as she does with many other things that may appear to be one way but in reality are something quite different.
"She's a good-hearted person with life experiences that have given her a hard shell. And that's why I identify with her. I lived in Iran in 1979 when there was a revolution. I was 11 years old. There was the Islamic Revolution that I went through. Then there was the war between Iran and Iraq and we lived there for 2 years until my parents decided to move to Spain. So I think those were hard experiences…it was hard leaving everything, you know, all your life and then packing a bag and never coming back. I think those experiences have given me a hard shell. To some people who don't know me, I don't seem friendly, and that's okay. Those are my life experiences and it's just caused me to have that shell. I'm okay with it. But I am a good person, and I love black, too. How can you not identify with Maleficent?"she said.
After school,  Señora. K also sponsors the Futuro Latino club: a club dedicated to making sure that students in the Latin American community have the right information about colleges before they apply. Several times during the school year, the club will meet to talk about life after high school and even go on college visits within the area. In addition to advising students, Señora. K also has cafecitos or meetings with their families and explains in great detail what is necessary for receiving a college education.
"Señora. K is an amazing teacher. I love having her as my teacher. She's one of the sponsors of Futuro Latino and the fact that she made time to help students and to send them to the right college is quite amazing," senior and Futuro Latino president, Jose Mancera, said.
Futuro Latino's name was given by a student who saw the future as very Latino, and with people like Señora. K working to educate and encourage Latin American kids, that future is looking bright.