Striding towards State: Q & A with the Cross Country Captains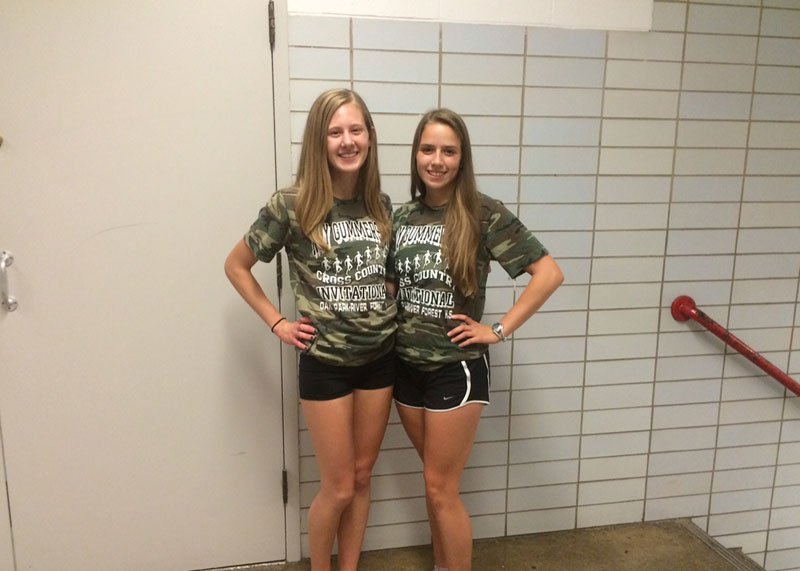 The NWN sat down with cross country captains and seniors Nicole Camburn and Danielle Karp. They discussed their goals for the season, as well as their big plans to qualify for state as a team, and how they plan on leading the team there.
NWN: How has running affected your life?
Camburn: I didn't start running until my freshman year, and I really like how it's a very individual sport, even though you're surrounded by teammates who are really positive and uplifting, I think it's still cool how you can work to improve yourself, while being surrounded by a bunch of friends.
Karp: Running has pretty much been a really big part of my life because all of my sisters before me have run here at Niles West. They have been four year varsity athletes. I remember going to see my sisters' race, and it has always been my Saturdays, to go watch them compete.
NWN: What inspired you start running?
Camburn: My sister ran, and at first I was completely opposed to running but after some friends convinced me to do it, I got into it and I am very happy that I did.
Karp: My sisters ran, and I would also run with them in the summertime and I just really liked the aspect of the team which was that no matter who you are, there's always gonna be someone from the team cheering you on when you're running a race and that was one of the thoughts in mind when I joined cross country.
NWN: What was a memory you've made throughout your running career in high school?
Camburn: One of the most memorable things was when we went to Gatlinburg, Tennessee, because it was really a bonding experience and it's something that everyone had a lot of fun on. But even though we did have a lot of fun on it, we also trained hard and it's really nice to have that sense of accomplishment.
Karp: We take a lot of trips with the cross country team and it's a lot of fun, last year we went to Peoria for a race and we had spent an entire day together in a van and it's just experiences like this which really give the team a lot of bonding together and help build your friendships, which ultimately help you on the course.
NWN: How do you feel before you start a race?
Camburn: I usually get pretty nervous, but I try to keep it all in the inside, and it feels kind of surreal that I'm about to race. It doesn't feel real until the moment the gun goes off. As you go on with your race though, you get more into it and once you push past that middle part of the race, the end of it is the best part because you feel the most accomplished.
Karp: I have a lot of anxiety before the start of a race; just thinking about it makes me kind of nervous and sometimes I feel like I have to go to the bathroom again. However, once the gun goes off, you kind of settle into it and just race.
NWN: How have the coaches helped you with your performance? Have the other runners on the team also helped you with your performance?
Camburn: Both of the coaches and the other girls are a big part of why I love the sport so much and I think that without the support from them, and the atmosphere it gives I wouldn't be where I am. Everyone is very serious about the sport and everyone wants to improve, but we still have this laid back atmosphere. Running itself can be very stressful, but being around people who you know are going through the same thing as you and are there to support you through everything is a nice feeling.
Karp: Everyone is there for each other all of the time, and it doesn't matter who you are. The coaches always know what to say when you are struggling, and it gives you the strength to carry on and push through. Same with the girls, everyone always gets along and supports you through everything, which helps your confidence and gives a positive feeling.
NWN: What are some of the responsibilities associated with being a leader on the team?
Camburn: I would say one of the biggest responsibilities is to encourage other people. We make sure that people have more of a positive outlook on running, and we try to encourage the girls while also trying to push ourselves.
Karp: For me, it's not just encouraging others, it's encouraging yourself because the other girls look up to you, and when you have a positive outlook about the workout or things like that, they will most likely have the same outlook as you.
NWN: Have you had any injuries throughout your career? Have these injuries affected your performances?
Camburn: Often on, I have had shin splints and knee problems, but I haven't had any injuries that have stopped me from running. So far, I haven't had anything that has been detrimental to my running.
Karp: Last cross country season, I did have problems with my hip, and that really affected my running even now, because I'm obviously scared to have the same injury again.
NWN: What are your personal goals for the season? What are your goals for the team this season?
Camburn: I'm hoping to qualify for state this year, and all of our coaches do believe that we have the talent to qualify for state as a team, so that would be really exciting. For me personally, my goal would be to break 18 minutes for my three-mile race.
Karp: Our coaches have always been very supportive to everyone, but just this season, they really believe that we have a good shot for qualifying for state. I feel like there's a lot of pressure on me because my time is the last one that counts into qualifying, but I am trying not to think about that and just trying to focus on getting a personal best for me. Time wise, last year I had gotten just over 20 minutes, and this year, I am hoping to get to the 19-minute mark.
NWN: What are you doing to during practice to reach these goals other than what you're doing now?
Camburn: As a captain, I am going to try to pull up some of the top runners so that we can try to do the same during races. Personally, I am hoping to continue to improve my running form to take some time off my personal records right now. More specifically, I plan on fixing my posture and my arms.
Karp: I think that during practice, also with doing my best, I am also hoping to bunch up our top runners, so we can try to do the same during races and hopefully improve our team's chances of qualifying for state.
NWN: Who are some key runners who will contribute greatly to the team's success?
Karp: The other day when we ran a mock two mile race, and the results came out to be (in sequential order), Nicole Camburn, Merima Mackic, Kathleen Park, and Danielle Karp. Another key member who was not too far behind me was Viana Chao who will be another key runner this year once we start racing.
The Girls Cross Country team is looking to make a bold attempt for state this season, so make sure to come out to support the Lady Wolves!
About the Writer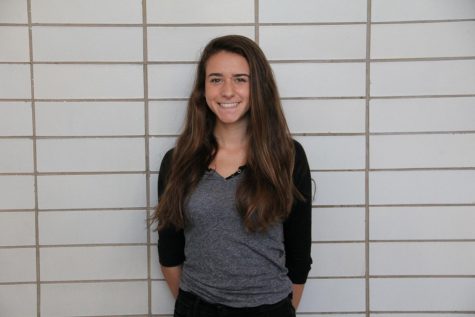 Diana Panoutsos, Sports Editor
Diana is the current sports editor of the NWN. When she isn't writing, she enjoys listening to country music with the windows down and playing soccer.