Teachers Lives Before Niles West: Mrs. Schram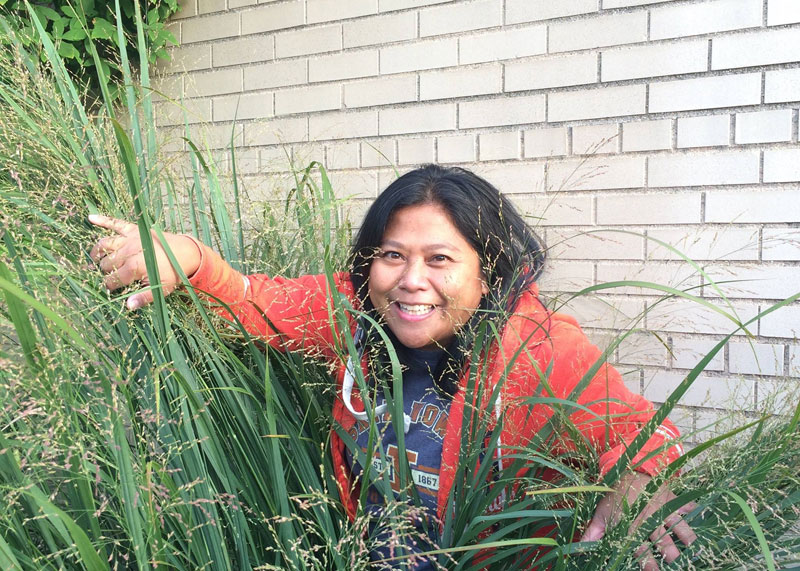 By Thea Gonzales
September 24, 2015
The difference between a good school day and a bad school day oftentimes depends on the number of strung-together positive moments in between the average. Those moments might include a perfectly well-placed high-five from a friend before 4th period or an extra scoop of hash browns during the free breakfast before school. Susan Schram, teacher of AP environmental science (APES),  has been a positive moment in all of her students' lives since she came to Niles West many eons ago.
"She sends us a lot of positive energy, making our mornings bright," senior David Bittar said.
From her clever in-class jokes about babies ("alright, class, let's make like a baby and head out!") to her passion for the environment and all of its (non-invasive) species, Mrs. Schram makes her class an encouraging space where students learn beneficial knowledge about the world and their places in it.
"Mrs. Schram teaches in an intuitive and engaging way that makes for as little book work as possible and teaches us with labs that take advantage of the school's prairie land," senior Erik Johnson said.
However, like the process in inspecting how the Indiana Dunes has evolved over time through succession, one has to wonder if Mrs. Schram has always been so awesome.
"When I was a  little Padilla, I thought for sure I would be a scientist who cured cancer. That was second grade. I was also afraid of swimming in lakes because I had read a book about the deadly brain eating amoeba,  Naegleria fowleri. I thought for sure I would get this. Later, when I became a little more rational and stopped reading diagnostic manuals for childhood diseases, I had always wanted to become  some sort of doctor. Not a witch doctor or doctor of love, but a medical doctor, with the idea that I would find cures for cancer," Schram said.
As a second-generation Filipino who was born in America, her family was one of the only Asian families in the neighborhood she grew up in– something that ignorant kids liked to add to their list of annoying comments. At one point, someone asked if her dad was Bruce Lee and she replied, "he's actually my uncle, and he can kick your ass." She didn't hear from that kid again.
Growing up in that environment, Schram had to seek out knowledge of her habitat, herself.
"My parents weren't exactly the model of recycling. I'm not sure we ever owned a recycling bin. I do remember returning glass Coca-Cola bottles.  My family camped and fished. I liked the outdoors. Before the development of more subdivisions (where every 3rd house was the same model) we had a large prairie-like field nearby that  friends and I  would play in.  I was also an avid rock collector and stole landscaping rocks from neighboring houses. That's a pretty bad description of a future environmentalist. I guess you could say, growing up Padilla, we had a large ecological footprint. I think there were just bigger fish to fry like the whole avoiding a nuclear war time period.
That was my environmental experience at that point. Environment, sustainability, climate change…nobody ever talked about it," Schram said.
At the end of her high school years filled with oboe rehearsal, softball, and student government, Schram took her glam to the University of Illinois.
"I was in a sorority: Alpha Phi. What happens at A-Phi, stays at A-Phi. Kidding of course. If anything, it was really just a big distraction to studying. But a fun distraction.  And a bunch of us played intramural sports. I played on a flag football team that won the campus  'championship' and a bid to play in a tournament in New Orleans. We all road tripped there, and got demolished by a team from Mexico. I feel like we won though, because, well, hey, we were in New Orleans!" Schram said.
After changing her major three times, she finally came back to bio pre-med and later pursued a career as a teacher of the environmental sciences. Because of that decision, one of the loneliest hallways in Niles West has become a haven for all forms of life, be they the tenacious Marram Grass or the students studying them. In between the average sits Mrs. Schram, bursting into song over glacial movements and moving the people she teaches: one positive moment in the organic compound of a day.