Fall Orchestra Concert to Hit the Stage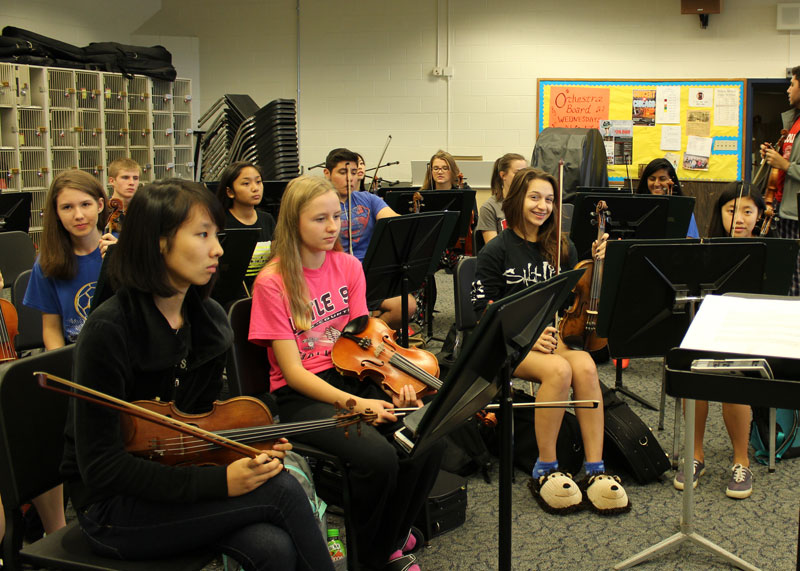 By Thea Gonzales
September 30, 2015
Nothing to do on a Thursday night? Niles West's fine arts department has an idea to pitch to you: come support orchestra at the fall orchestra concert on Thursday, Oct. 1 at 6:30 p.m. in the auditorium.
"All three orchestras, The Concert, Philharmonic, and Symphonic Orchestras will perform music by Haydn, Vaughn Williams, and Bloch's Concerto Grosso for piano and string orchestra with Gabriella Tellez performing on the piano," orchestra director Steven Katz said.
With this new school year there have been many changes in the fine arts department. Instead of continuing the separation of Philharmonic orchestra in two classes, they have merged into one class that works on music together as a larger ensemble.
As an ensemble, the top orchestra — Symphonic orchestra– has grown from the year before, becoming a class more focused on interpreting and achieving high-level music.
"I think that Mr. Katz has been drilling Symphonic [orchestra] a lot lately because he sees the potential we have. He's been very particular but also getting us to feel the music more and be more expressive. I think that's really easy to do with the three pieces Symphonic is doing. They're all easily recognizable songs so I think it would be cool if students heard these famous songs played by fellow students," junior, and concert master of Symphonic orchestra, Nicole Cho said.
Check out the fall orchestra concert this Thursday and end your evening on a high note with music that will you leave you treble-ing with emotion that you can't Handel!