Fall Choir Concert to be Held Tomorrow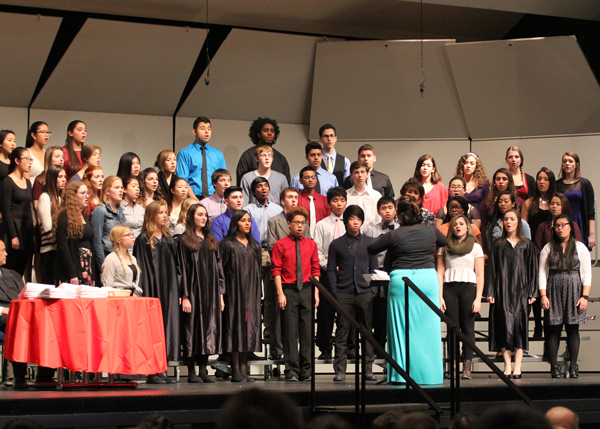 By Alex Ehrenberg
October 7, 2015
Choir will be hosting their annual fall concert in the Robert L. Johnson Auditorium tomorrow night, October 8 at 6:30 P.M.
"This year, the audition requirements for masters singers — our top choir– were a little more rigorous. You'll see really great performances from all the choirs. Additionally, the extracurricular groups will be performing at this fall concert which is different from past years when usually just the choirs performed," choir director Amy Branahl said.
Different from years past, the choir department has now created an intermediate level. This has allowed more students to join choir and with more room to cultivate their talents.
"The support for the new choir class system has been amazing. Instead of asking them to go from a beginner to an honors level choir, there's now an intermediate choir that is in between those two. Educationally, it makes so much sense and better serves my students within the program," Branahl said.
The choirs are eager to show off all the hard work they already put in this year and possibly entice some students to join.
"I think that our choir is actually doing really well with the harder music and the short amount of time we've had to learn it. I think we sound amazing and that we're ready with all the work we've put in. Also, I think it is important for people to come now because it is early in the year and it is never to late to join! People should come to check out our program to see and experience a different, but fun environment in our school and it will show how much this is a big part of Niles West," sophomore Sarah Cohen said.
The a capella groups will also be performing during the show, unlike any fall choir concert previously. Check out the fall choir concert this Thursday and support our student vocalists including Guys and Dolls, High Fidelity, and Echo Effect.