Marching Band: an Appetite for Excellence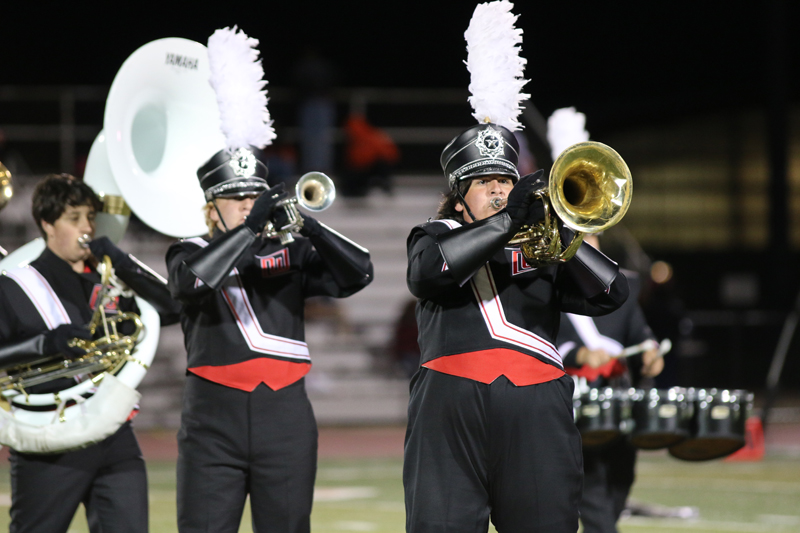 By Thea Gonzales
October 13, 2015
[youtube]https://youtu.be/M5Qh4Jvq5bs[/youtube]
It is 3:40 p.m. on a Tuesday. The sun beats down mercilessly on the grass, foreshadowing the long rehearsal that will follow the inhabitants of the field until the sun is close to its end. Then all of a sudden, the far away noises of the recently released student body fade and a single note from a bassoon solo calls forth the attention of  every alert-eared musician present. Today, both music and a show are created with the intention of achieving excellence, "one more time" closer to it with every missed step.
Unlike any other musical ensemble, being a part of marching band requires an absolute presence of mind: without focus and attention to detail, all the intricacies of a show become lost on the field.
"[Marching band] is its own challenge. [In] most other musical ensembles, you don't have to worry about doing so many things at the same time. Aside from the planning process of what the show is going to be, it's more like a theatre production… you have to think about the drumline, the color guard, the front ensemble, then you have people playing the other instruments…then you have to talk about drill– all the pictures made on the field–and what kind of technique you're going to use…there's a lot of things that have to be married on top of having a show concept and planning what the actual music is," marching band director Justin Johnson said.
This year's theme is sacrifice and features music from Igor Stravinsky's "The Rite of Spring" as well as costumes and movements that depict the story of a girl who dances herself to death after being chosen as a human sacrifice. In 1913, Stravinsky's ballet incited a riot at its premiere, but this year, the only fighting is featured as the exhibition of shows at marching band competitions throughout the season.
"Getting ready for a competition is almost like other sports: through a lot of productive practice and long hours spent on the field with the instruments to look and sound great. Once we are at a competition, marching band is very different– competition-wise– compared to other sports. There is no way to defend or prevent others from scoring points. Instead, you need to put on your best offense and strive to outscore the other schools," drum major and four-year marching band member Anthony Lohan said.
Regardless of the outcome of competitions, marching band members practice integrity along with their scales: hard work and accountability are characteristics that need to be actively pursued daily.
"Marching band requires much stronger individual roles and more responsibilities than any other ensemble. In a marching band setting, an individual is accountable for so many different things and must do all of them well," trombone player and four-year marching band member Erik Johnson said.
Because there are so many different, integral components of the ensemble, there is not always someone to lean back on when a member forgets their part. From the players to the color guard, responsibility binds marching band together, reminding everyone involved that their parts are important and necessary for the success of the entire group.
As a Niles West band, marching band holds the standard of excellence that every group at Niles West possesses. Until each member of the ensemble is doing their complete best, marching band does not rest or settle for less. This appetite for success is what fuels marching band  and allows for continual growth in the program.
"Marching band has taught me that if you want it, you can have it.  But you have to actually want it.  More than anything else in that moment.  That desire is what will fuel your success in ALL things. Marching band seems to bring out a sort of desire for excellence that I haven't seen anywhere else.  Nowhere else have I seen so many people willing to plan extra practices with each other for the sake of the performance — for the sake of doing the very best one can do at their own personal job, for excellence," color guard and two-year member Angella Ress said.
Upperclassmen aren't alone in their views of marching band. For freshmen and others who haven't been a part of the student body for very long, marching band is a group that welcomes all people and encourages the development of playing skills and musicianship as well as a good work ethic.
"As a freshman this year, I was terrified about making new friends and going to Niles West, which is so much bigger than my middle school. However, I went to marching band camp over the summer and I can honestly say it was the best decision I made. It was a small group of people that shared a common passion: music. I can gladly say that they are the best friends I have made so far. All of them are so kind and so accepting. I felt at home [on] my first day of school because I knew that there were people that I knew already and could turn to if I ever needed help. They welcomed me with open arms and will do the same for everyone," freshman and flute player Kathy Trieu said.
The only requirement for entry into the ensemble is the capacity to care. If students are on the fence about joining, they should be aware of the difference between a marching band where everyone is going through the motions and a marching band where everyone is giving their all. It may seem like something trivial, but according to marching band, the success of the group has everything to do with how much each member cares.
"Anyone can excel at marching band.  If you have a functioning body, even if you are in a wheelchair – if you're mobile, you can excel at marching band.  But not if you don't want to.  Not if you don't care," Ress said.
As the end of the season comes to close with the last marching band competition on Oct. 17 at the Illinois State invitational, band director, Mr. Johnson, shared his hopes for marching band members entering the world without marching band practice every week.
"At the end of the day, we do music. But at the same time, I don't think I would fully be doing my job if I didn't teach responsibility and why it's important. How to work, why that's important, and how that applies to everything else…those are all things we do that are very much applicable to things outside of marching band and even music in general. Hopefully they take those things," Johnson said.