Niles West Soccer: More than Just a Team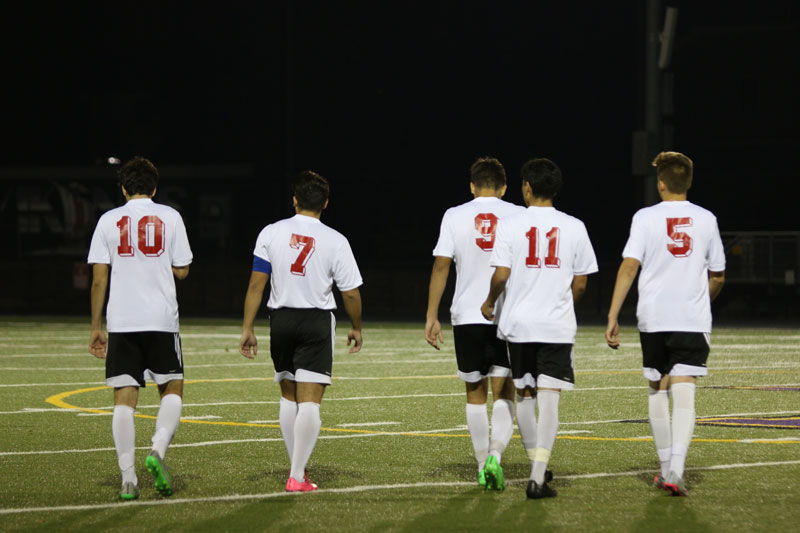 By Shannon McHugh
October 22, 2015
[youtube]https://youtu.be/0n00ysR1kLQ[/youtube]
[dropcaps type="kp-dropcap red"]T[/dropcaps]he Varsity Boys Soccer team played its regional elimination game against rivals Niles North Oct. 21 at 7:00 p.m.
In the first half, both teams played with extreme intensity, giving it their all to hold each other from scoring. It wasn't until eight minutes left in the first half when North put the first goal on the board. Feeling the pressure, the Wolves stepped up to answer with playing outstanding defense and got the opportunity for a penalty kick.
Senior Mario Bajric handled the blood-rushing pressure with such ease that he completed the goal to bring the Wolves right back in the game.
"The pressure was high, there were about two minutes left, and the odds were against us, but that didn't stop us. I took the same shot at practice multiple times and all I had to do was mirror it. The fans were loud, I heard boos and cheers, and the other team was taunting me, praying I'd miss. I put all that aside and said, it's just me and the goalie," Bajric said.
[nggallery id=436 template=galleryview]
Following the second half, both teams remained tied until having to head to a penalty shootout.
Niles North's goals brought the Wolves' season to a closing.
Senior Denis Soldo expresses his thoughts after the game and what it truly means to play for the name on the front of their jerseys instead of the back.
"At the end of the game I was really down, but I knew I had to keep my head up and make sure I helped my teammates keep their heads up as well. As a senior, I had to show the underclassmen how you have to act after a big loss so they can learn and act the same way the next year. Knowing that this was my last game ever with the Niles West shirt on, it really makes me understand what it means to play for such a great school, team, and above, all a family. I might not play with this team again, but I know for sure that I will always be there for them. Also, the coaches really showed us what it meant to be more than a team. They mean a lot to me because they acted more than coaches to me, but as family that I know will always be there for me as well. And that is why I will never forget this team and won't forget the great memories that came with it," Soldo said.
Fortunately, with strength and passion, they left their hearts out on the field and kept their heads high.
Video by Inana Zomaya
Photos by Jenna George