Howl-O-Ween and Dia De Los Muertos Art Show to be Held Today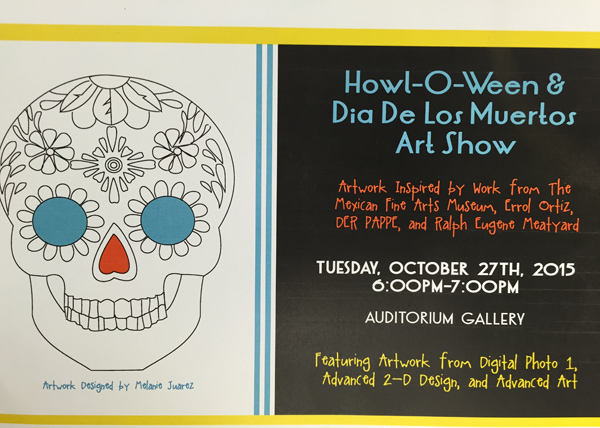 The Auditorium Gallery will hold the Howl-O-Ween and Dia De Los Muertos art show on Tuesday, Oct. 27 from 6 PM to 7 PM.
Artwork from students in Digital Photo 1, Advanced 2-D Design, Advanced 2-D Art, and AP Studio Art will be featured. The Advanced 2-D Design students went to the Mexican Fine Arts Museum and the Pilsen neighborhood on a field trip to gain inspiration for the art show.
"This is our first year doing these 3 foot skulls and I'm very excited about them. I told my students to think about social justice, and something in memory or honor of someone. One of my students is doing a skull based on the rape of women, one is doing a police brutality skull, objectifying women, and another student is dedicating their skull to her mother who has breast cancer," art teacher Deanna Sortino said.
The 3 foot skulls and inspiration come from Errol Ortiz, a Chicago native and Imagist.
"If you don't know about Dia De Los Muertos and how it's the celebration go peoples lives, come. There are some creepy, some cute, something for everyone," Sortino said.