Clubs Goin' Up at West: Advanced App Development Club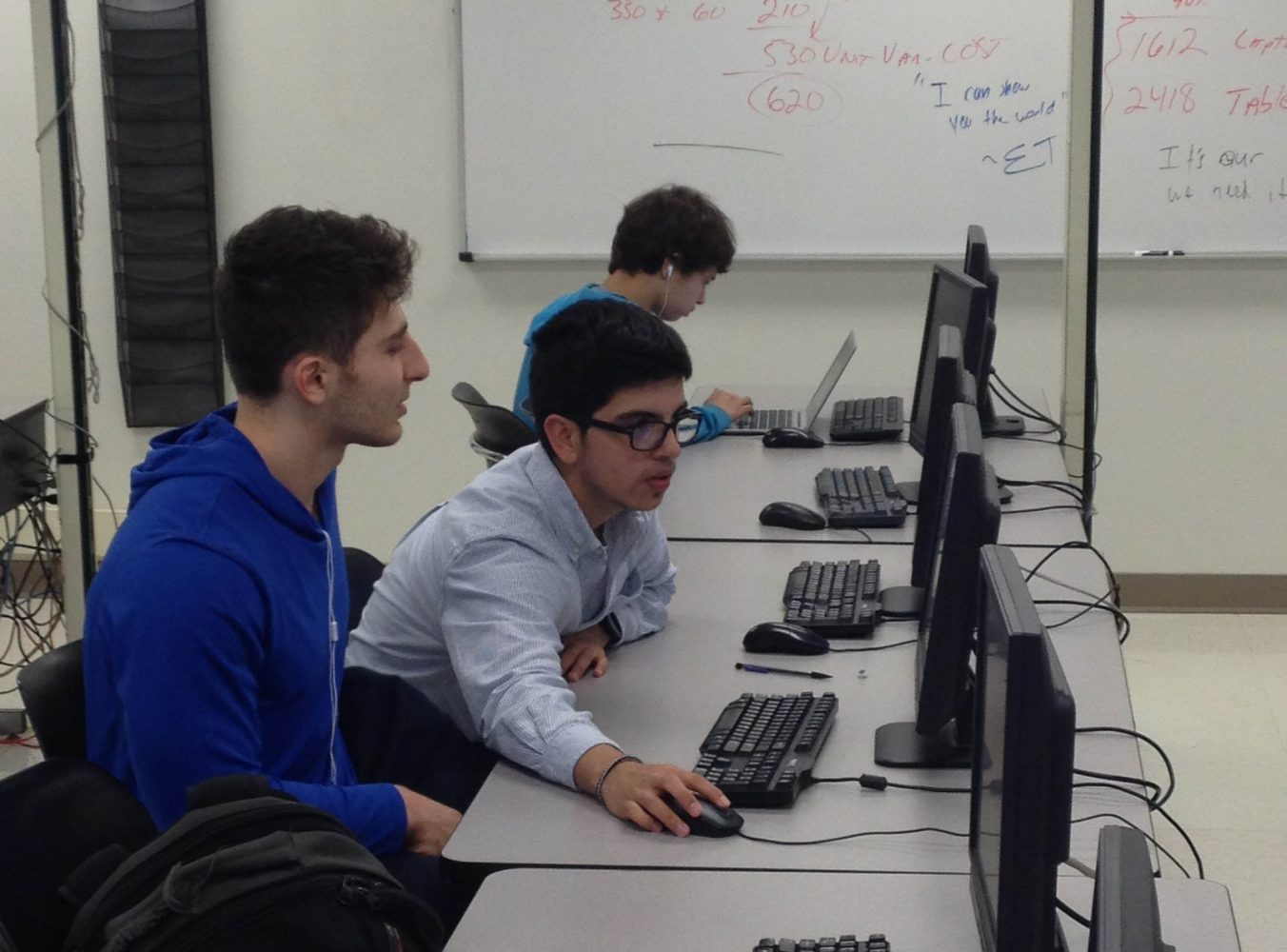 By Fillip Komornik
November 2, 2015
Editor's Note: This is the sixth in a series of 10 features about clubs at West.
Most students regard Thursday as a routine school day but for some individuals, it's an especially notable time of the week; it's when the Advanced App Development Club meets. During an average meeting, almost every chair in the room is filled with eager students ready to build and innovate computer programs to help solve our everyday problems. Computer screens are filled with a diverse set of images ranging from vivid, colorful animations to graphic programming languages.
The senior members of the club calmly walk the few rows of computers assessing the progress of club members and answering questions. Some students are searching the internet for answers to problems in their code, while others are working collectively in groups testing and experimenting with others' programs. New members of the club are working on easy, introductory-level programming languages. Some returning members are working on advanced programs with many intricate details that need to be accounted for. Finally, the club sponsor, math and computer science teacher Matthew Fahrenbacher, is seated in a tall swivel chair in the back of the room carefully working on his own laptop.
The Advanced App Development Club is the first club at Niles West that involves writing computer code. Junior Michael Leon, a veteran programmer, said he is excited about the formation of a place where all programmers can work together on new and exciting ideas.
"The most exciting part is establishing a community of programmers, and channeling efforts to become a better club," Leon said.
A big advancement in scheduling has allowed the App Development Club to take place after school instead of before school. This has quadrupled the number of members in the club since the 2014-2015 year, and members are excited for more intelligent and motivated programmers to join the club. Members believe that moving to the after school time frame will allow the club to advance at a much faster pace, and as a result, new and interesting opportunities will be created for the students at Niles West.
"I'm excited we moved after school. We have a little bit of a better direction for new coders," Fahrenbacher said.
Students have quickly advanced through concepts in computer science, and they have made tremendous progress throughout their time spent participating in the club. New members have already started learning programming syntax, and skilled members have gained valuable experience from helping out their fellow students.
"Teaching is learning. It reinforces your understanding of computer science," Leon said.
Everyone in the Advanced App Development Club, from senior members to new additions, said they are excited for the upcoming year.
"I'm excited that I get to have fun, make games, and program," freshman Alex White said.
Members have amazing aspirations for the App Development Club this year. Many of the coders want to help improve technological resources for other students at Niles West through group projects; however, they are also enthusiastic about starting their own projects.  
"We'd like to get as many new people to code. Our second goal is to try and organize the creation of several large group projects," Fahrenbacher said.
Other students have hopes of illuminating the entire concept of computer programming, so coding doesn't seem as daunting as the name implies.
"I want to clarify what programming really is to the student body this year," Leon said.
For students who enjoy participating in innovation, problem solving, and informational technology, the Advanced App Development Club is the place to be. It is located in Room 1510 and meets Thursdays after school at 3:45 p.m.