Nicole Camburn:The Quest to State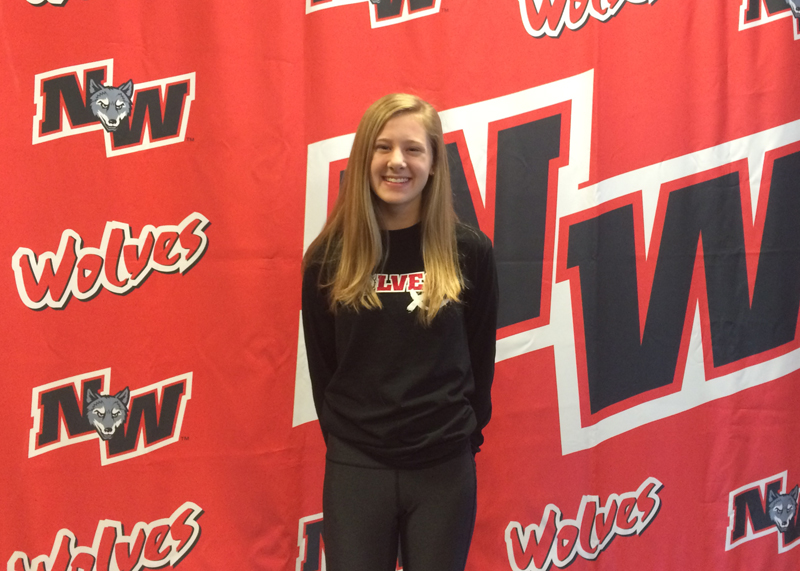 By Shannon McHugh
November 6, 2015
Senior Nicole Camburn awed the crowd from her performance at the sectional race at Lake Park High School Saturday, Oct. 31. Even with the weather being in the shivering 40s and rainy, Camburn ran a strong race and ended up running her best time all season to qualify for state.
NWN: How did you react when you found out you made it to state?
Camburn: Even though my coaches told me after my race that my chance of qualifying looked good based on how I placed, I was still nervous until it actually became official. I was watching the boys' race with some of the other girls on the team when one of my coaches ran over and told me, and they all hugged me and I couldn't stop smiling. It was such a great feeling to be surrounded by so many of my friends who were able to share that moment with me.
NWN: How does it feel knowing you accomplished this?
Camburn: I am very excited to have this opportunity to run in the state meet on one of my favorite courses, and I also feel very relieved to know that all of the hard work I have put in this season is paying off.
NWN: What made this year different from your previous years?
Camburn: This year was different from my previous years because it was the first year that I was the lead runner on the team. I have always had at least one other person in front of me during practice and races, so this was the season that I really had to learn how to push myself and set my own pace.
NWN: Do you plan on taking running to the next level in college?
Camburn: As of now I am looking at colleges for their engineering programs, but I plan to continue running whether it is competitively or on my own.
NWN: How does a senior affect making it to state?
Camburn: Being a senior definitely made me feel more pressure to qualify knowing that it was my last chance, so I feel like a weight has been lifted off of me and now my focus is getting my best three-mile time.
The state meet will take place at Detweiller Park in Peoria on Saturday, Nov. 7.