Staff Honored at You Make a Difference Breakfast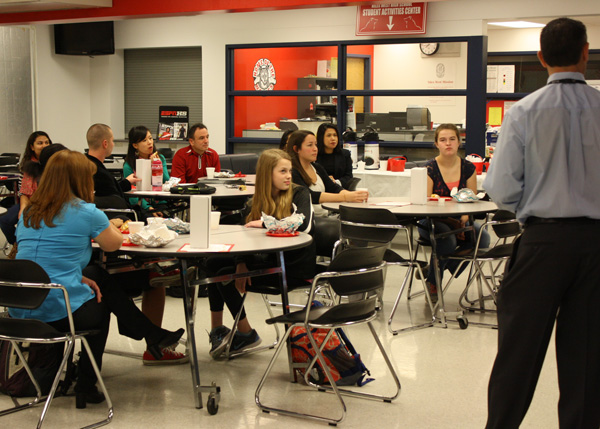 Hang on for a minute...we're trying to find some more stories you might like.
Niles West held its semi-annual You Make a Difference Breakfast on Thursday, Nov. 12 at 7:30 a.m. where students nominate staff members.
This year's nominees were Justin Johnson, Leslie Natzke, Jessica Verceles, Luisa Karimighovanloo, Syed Ali, Ryan Geu, D.J. Kosiba, Amy Branahl, Elizabeth Kolany, Matthew Weatherington, Jayson Foster, Sharon Swanson, Tatyana Gulak, Jason Macejak, Lauren Flahive, Dena Lichterman, Anne Heselton, Mike Grossman, and Kathie Kajmowicz.
Both the student nominators and teacher nominees had breakfast with and were presented by principal, Dr. Jason Ness.
"This time, these 30 to 35 minutes, are used to express our feelings and establish a positive culture that has respect and appreciation. People are expressing gratitude and appreciation for the little things, the small day to day acts of kindness, and for a million different reasons. Often times we don't know how we impact people. And they are not looking for this recognition in return, it is done because of the way they are wired. By means of example, we were running in at 7:30 and the first teacher recognized was Mr. Foster. The student that recognized him said that his last name 'said it all' and that 'Mr. Foster was like a foster dad to me.' Mr. Foster was not looking for this recognition. These teachers are role models. This breakfast really it gives us a great start to our day and I wish we could do this every morning. It makes me feel great," Ness said.
English teacher Dena Lichterman said she was honored she was nominated.
"I was completely honored. It meant a lot to me and made me feel great all day," Lichterman said.
Senior nominator Antonia Schmidt explained why she nominated Ms. Lichterman.
"I nominated Ms. Lichterman because she continues to inspire me every day. I hope to be half of the amazing and extraordinary teacher she is one day," Schmidt said.