Junior High Students Attend Orchestra Clinic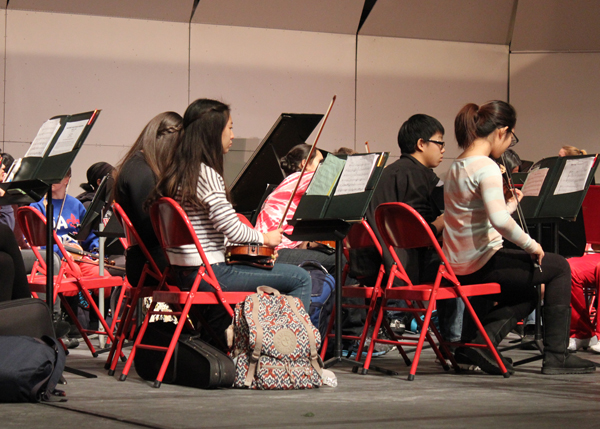 [youtube]https://youtu.be/SugttP84LIY[/youtube]
Niles West High School opened its auditorium for young Orchestra musicians on Wednesday, Nov. 18  to participate in the Junior High Orchestra Clinic.
This student-run clinic served as a reminder to the middle schoolers of  what they need to improve on upon entering high school as future musicians.
"Our students do everything from setting up the stage to introducing all the groups. They also help Middle Schools get audio feedback from different clinicians and video tape of their performance. They are doing all of that plus guiding them to where they need to go. Other than the clinicians, the students pretty much do everything," orchestra director Steven Katz said.
Young musicians from all around the area have been given the chance to practice before their big performance in the auditorium  that would be put to the test and  criticized by professionals from the University of Illinois.
"I think this is awesome because we're going to take what we learned from this clinic and bring it back in our classroom to help these sixth graders succeed in their future to become musicians," orchestra teacher at Lake Zurich Middle School Riley Broach said.
Niles West orchestra member Nicole Cho shared her excitement about this year's Orchestra Clinic.
"I'm super excited! It's been going great so far. These kids have put in so much work in preparing for this big day and they sound amazing," Cho said.
About 17 middle schools participated in the event, which was more than the average number, according to Katz.
[nggallery id=443 template=galleryview]