Build a Love Box: A Way to Give Back for the Holidays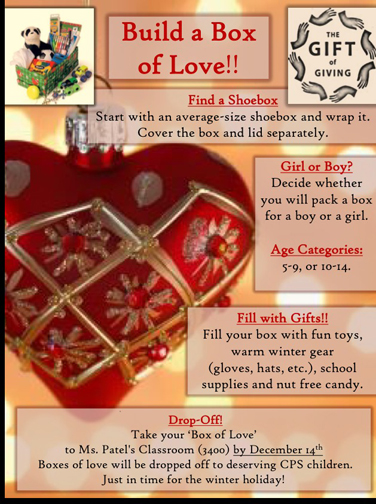 By Shannon McHugh
December 2, 2015
With the holidays being just around the corner, its time to start thinking of others. All it takes is a shoe box and the desire to give back. Realizing how fortunate she and her children are, Poonam Patel, ELL physical science and biology teacher, took a call to action. She started a "Build a Love Box" organization for deserving CPS children and decided to bring it back to our school.
"I know how fortunate me and my family are and we try to give back every year any way that I can. Its unfortunate that these children deserve anything that they can get but cant because of their financial situation or family circumstances at home.  I thought that it would be important to bring this to our school," Patel said.
Bringing this idea to fellow teachers and her ELL students, they thought that this was a perfect way to give back to those who are deserving in exchange for a true rewarding feeling. "It's crazy that these kids think of these little boxes as the world. How something so easy to do and so small can really do so much for them," ELL student Gloria Rjeim said.
Start with an average sized shoe box and fill it up with thoughtful gifts whether its warm winter gear, school supplies, nut free candies, or  fun toys. You can decide between the ages of five-nine or ten-fourteen. Make sure to wrap the lid and box separately.
Take your box of love to Mrs. Patel's classroom 3400 by Dec 14.