Lilly's Purple Plastic Purse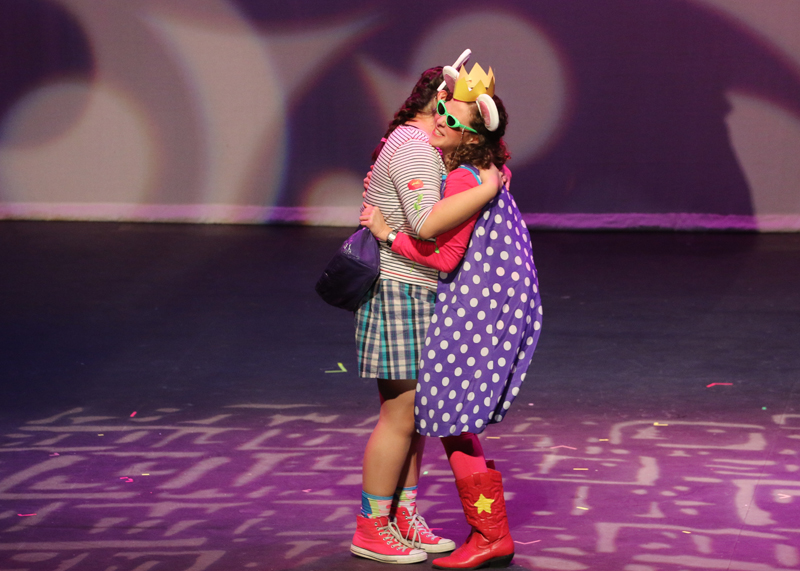 By Thea Gonzales
December 2, 2015
Niles West Theatre will be performing the annual children's show "Lilly's Purple Plastic Purse" on Friday, Dec. 4 at 4:00 and 7:00 p.m. and Saturday, Dec. 5 at 2:00 p.m. in the Robert L. Johnson auditorium.
Based off of the beloved 1996 children's book by Kevin Henkes, "Lilly's" is a show about a mouse who embodies the heart of childhood and the challenges that she faces as she encounters new relationships with her friends and family. Lilly's youthful zeal highlights the wonders of everyday experiences, including the birth of her baby brother, Julius, and the purchase of her most signature accessory: her purple plastic purse.
"'Lilly's' in one word is undoubtedly fun. The characters are quirky, the story is fresh and exciting, and the set, props, and costumes are colorful and cheerful," senior and costume/props crew member Kate Silber said.
Among fresh new aspects of the show also comes the direction of Sean Buckley, guest director and alumni of Niles West. With the approval of theatre director Andy Sinclair, Buckely was able to pick, cast, and fully create the vision of the show.
"I graduated from Niles West in 2010 and I graduated from Northwestern University with a theatre major in 2014. When I was here, theatre was basically all that I did… the book is one of my favorite books from when I was growing up, and then I saw a production of it when I went to Northwestern when I was a sophomore. I was just like, 'this is adorable!' I knew immediately when I got handed the children's show that it was on my brain as one I definitely wanted to do," Buckley said.
As a theatre major, he directed short 10 minute shows in the past, but this is Buckley's first time directing a show of this scale. However, "Lilly's" is in good hands with an experienced alumni in the auditorium.
"We all love working Mr. Sinclair, but it has been really cool to see a different perspective and directing style. Sean is super nice and a lot of fun to work with, and she went to niles west and participated in theatre, so she knows how our department works. She has made it a great experience for all of us," senior and leading actor Elissa Hoffman said.
Upon coming back to a program she graduated from in 2010, Buckley is glad to be back and notices more similarities in the program than changes.
"What I kind of like about it is how similar it feels, quite honestly. The energy of the people and the work ethic and the flow of the system is very similar to how it felt when I was here and that was very comforting," Buckley said.
Though it is a children's show, the energy and work ethic of the "Lilly's" company still needs to be as on point as ever to put on a play that is just as technically challenging as any other show this season.
"Stage managing this show is more difficult than others because it's fast paced and always moving. There's barely anytime to breathe. I'm always calling stand bys and cues. There's maybe one scene that doesn't have any internal cues. It's hard sometimes but it's important that it keeps driving because otherwise our audience will check out," senior and stage manager Amanda Pusateri said.
As for the factor of children's interest in the show, every moment is filled with vivacity and animation. From the fun, bright costumes of mouse ears and colorful overalls to the funky fresh music that plays during transitions, "Lilly's" is a show that was crafted to keep the attention of children. At one point, there is a giant puppet cat that walks across the stage in a dream sequence, following closely behind a dream version of Lilly who dances and brandishes a dream sword at her younger brother.
"'Lilly's' [is] different from other kids  shows because this so much energy that needs to fill the stage. The special-effects are different because they're a little exaggerated to be more gear for kids," senior and actor Kristopher Valentin said.
Because the show is targeted toward children and staged in the auditorium — a double whammy — actors need to perform much bigger than when acting in the intimate space of the black box theater. For many actors, reading the original children's book and channeling their inner Lilly helped to evoke the energy that the show needs.
"After I got the part, my mom actually dug up the book from our basement. It used to be one of my favorites as a little kid, so I reread the book a few times, which helped me rediscover and understand Lilly from the perspective of the reader. Although I was much more accepting of my little sister when she was born than Lilly is with her brother Julius, I still remember what it was like to not be the one getting all of the attention anymore. Referring back to my own childhood experiences definitely helped me put myself in Lilly's shoes… specifically, her red cowboy boots!" Hoffman said.
According to Sean Buckley, a children's show is all about bringing the spirit of childhood back to the stage.
"…to be in a children's show, you not only need to be high energy but you need to be comfortable being utterly ridiculous a lot of the time. It was mostly us going into it establishing that it's okay for us to be silly around each other because I feel like that –more so in middle school but definitely in high school, too– the idea of acting weird is something that you learn not to do because it's easier just to be stoic. It was about us breaking out of that and saying, 'no, we need to be ridiculous' because the kids aren't going to like us if we're boring," Buckley said.
In this way, the company feels a definite responsibility to portray theatre in an entertaining and cool way to kids whose first experience with theatre might be at "Lilly's."
"You feel a lot more riding on what [you're] doing, because for some kids who come to see Lilly's, it will be their first theatre experience and you want theatre to have a good first impression," junior and production crew member Cameron Koniarski said.
Though there is pressure to get the story and engage children through staged storytelling, members of "Lilly's" want to focus on the magic of theatre above all else.
"Children's shows are all about the magic. You have to keep the magic alive. One slip up can make or break the experience for a child. The second the kids aren't able to be in the world of the play is the second that it isn't working," Pusateri said.
Theatre– and children's shows in particular– welcome a spirit of energy that audiences anywhere can be a part of just by observing the happenings on stage. However, in efforts to promote youth theatre, Niles West Theatre has offered a special opportunity for kids 12 and under: Lilly's Dessert Picnic.
For $10 on Saturday, Dec. 5 at 12:30 p.m., kids "will receive a special meet and greet with the cast/crew, a special reading of 'Lilly's Purple Plastic Purse,' and a gift bag" as well as a ticket to the 2:00 p.m. show.
Though the company of "Lilly's" is made up of high school students, they already feel a responsibility to share the magic of theatre to children and strive to reach out to the community to encourage passion for the fine arts in the next generations of Niles West Theatre.
"For most of our shows, we're catering to a very broad audience, so we're more focused on just telling the story and not as much on who we're telling the story to. For the children's show, although we're still trying to create something that virtually anyone can enjoy, we work to tell a story that children can stay engaged in and feel a part of. The show has to have a lot of heart, and a whole lot of energy. For some kids, the Niles West Theatre children's show is their first theatrical experience, and we work very hard to make that a special and memorable experience for them," Hoffman said.
As an alumni, Sean Buckley is no stranger to mentoring the next cycles of student actors and technicians at Niles West. She never expected being invited back to help the program– much less to direct– by working with students who are presently in the same position she used to be in; now she determines every position actors are in during the show.
"I have never fancied myself as a director. I enjoyed the idea of directing, but it was never something that I intended on doing– especially not here. I never thought that was going to happen. I think it was an incredible honor that [Sinclair] even thought of me and considered me to do this. It's very inspiring and it's very flattering and I'm thrilled that I get to do it because it feels like I'm mothering the new children. It sounds weird, but I grew up here, so it was really exciting to pass something on to people who are experiencing the same thing," Buckley said.
Though children are the primary focus of the show, "Lilly's" has messages that can apply to adults, children, and everyone else in between. Though every character is a mouse, "Lilly's" presents themes of friendship and family that are universal. There is even a line in the show that is deceptively simple, showing wisdom in that effortless way that children express every day: "Today was a difficult day. Tomorrow will be better."
"The ultimate goal would be for everyone, especially children to relate to someone or something in the show. The characters are all mice, but they're very relatable. Also, this show is all about being yourself and finding people who accept you for who you are. I hope that kids (and our older audience too!) can take that away from the show– the idea that it's ok to be quirky. It's what makes us special," Hoffman said.
Time after time, Niles West Theatre has renewed audiences with childlike spirit and hope for the future. During this next week, "Lilly's Purple Plastic Purse" aims to inspire the child in every audience member, reminding them of how special every simple moment can be.
"What's special about Lilly's Purple Plastic Purse is that it's a familiar story that has been enjoyed by both the children from the community who are coming to see the show AND by many high school students. Whether it's an exciting larger-than-life portrayal of the kids' favorite story, a trip down memory lane for Niles West students, or a new, fun story for anybody, Lilly's is definitely a must-see," Silber said.