Japan Disaster Hits Home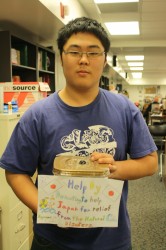 Although the tsunami and earthquakes in Japan happened miles away, students and staff here at Niles West have felt the effects of the tsunami.
The Japanese club has put efforts into raising money for the Japanese crisis by asking for donations. As of Wednesday, March 23, $578 will be donated to the American Red Cross.
"We are helping Japan by asking for donations. [We figured that] people should give out of the goodness of their hearts instead of getting something in return," said Japanese club sponsor Daniel Gin.
Sophomore Miyavi Jin has family in Japan; however, they weren't directly affected by the tsunami and earthquakes.
"[My family is] okay. I think one of [my friends] in college is still missing," said Jin.
According to Jin, the Japanese people, including her family, were struggling to find food and shelter for a period of time.
"The first few days people were starving, but now it's kinda better," said Jin.