First-Ever Hunger Games to Encourage Giving Back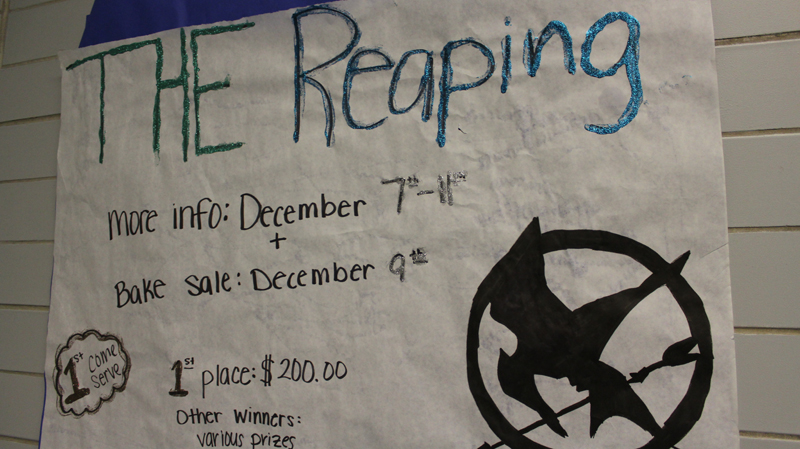 By Thea Gonzales
December 15, 2015
24 tributes from the 12 districts of Niles West will have the chance to win $200 on Tuesday, Jan. 5 at 8:00 p.m. Sign-ups began on Dec. 9 and are still open by the cafeteria during lunch hours and in the south lobby after school. Until 6:00 a.m. the next day, this year's first-ever Hunger Games brings the energy of both the book and movie franchise, starting with the zeal of its Gamemakers: Feminist Club and Expanding Lives, a Chicago non-profit organization concentrated on providing opportunities to the women of West Africa.
"The organization behind the event is Expanding Lives. Expanding Lives works to educate and empower young women from West Africa by providing structured workshops for girls who are the first in their family to attend high school when they come here to the U.S. for a 6 week conference. We also follow up with them after they go back to help continue their education," Fem Club co-president Rida Yousuf said.
In accordance with their message of raising money for groups that empower under-resourced women, Fem Club has taken the reigns on planning the event, hoping to educate others about gender inequality while also giving back through the Hunger Games.
"Fem Club has been incredibly supportive in organizing the event. Expanding Lives is fortunate enough to have two of its three high school interns serving also as Fem Club co-presidents, Rida Yousuf and Lejla Vojnikovic.  Both Expanding Lives and Fem Club have as goals improving the situation of girls and women around the world, so it is a natural fit. And, by the way, both talk about how advancing women gives more opportunities to men as well, so that we as a species can do better all around," event coordinator Leslie Natzke said.
As of now, Expanding Lives supports 20 girls financially by providing the funds to send them to university in West Africa. Because of a bad accident, another girl who is sponsored needs two hip replacement surgeries. Though Natzke first came up with the idea of using Hunger Games to spread awareness for this cause after spending time with her nieces and nephews, most of the planning came from "…discussions with the Fem Club presidents and with the other intern, Hubiba Ali."
Expanding Lives has already contributed to the success of many young women in West Africa; however, in order to continue that success, a new fundraiser was needed. Through the Hunger Games, students are challenged and also encouraged to take part in giving back to another piece of the world.
"Before the event, tributes will collect donations from sponsors (family, friends, etc.); this money will be converted into various forms of assistance throughout the Games — in other words, the more money they raise, the better their chances of winning the $200 grand prize. While this is a pretty fantastic incentive, my hope is that all
of the students who take part will leave with the knowledge that their actions can make positive changes all the way around the world," Fem Club sponsor Jody Weatherington said.
During the lock-in, several different trials will take place throughout the school: no tribute is safe from the challenges of the night into the early morning.
"We have a lot of different events planned because it is overnight, so there's lots of time! The games and activities planned are sure to keep everyone engaged and sure to stir up some serious competition. Those who sign up can be sure that they'll leave having great memories of a super fun, and eventful night!" Fem Club co-president Vojnikovic said.
Unlike the original Hunger Games, murder is frowned upon; if "districts" — or teams of two– can survive until the end of the games, the grand prize of $100 each awaits them after the sound of the last cannons.
"First, no killing will take place! However, tributes will be eliminating others. Tributes should be ready to stay up all night and to compete physically and mentally! But they will also have to make alliances.  They will better their chances by getting sponsors (donations from friends and families), but the donations are not necessary to play.  Like in the real Hunger Games, the odds will ever be in your favor if you have more sponsors. We will also have a grand feast at the end and prizes for the winning Tributes and a few others. The winning Tributes will leave with more than bragging rights. The last surviving team will leave with $100 each. We will also watch the first movie," Natzke said.
If the event goes well, both Fem Club and Expanding Lives have considered a 2nd Hunger Games– an inter-school competition is currently in the mix.
 "Before we start thinking about hosting subsequent events, we'll have to see how successful this first Hunger Games is. So far, student interest and excitement is high; if that continues to be true, I certainly wouldn't rule out a sequel!" Weatherington said.