Principal's Recognition: Ajanay Rogers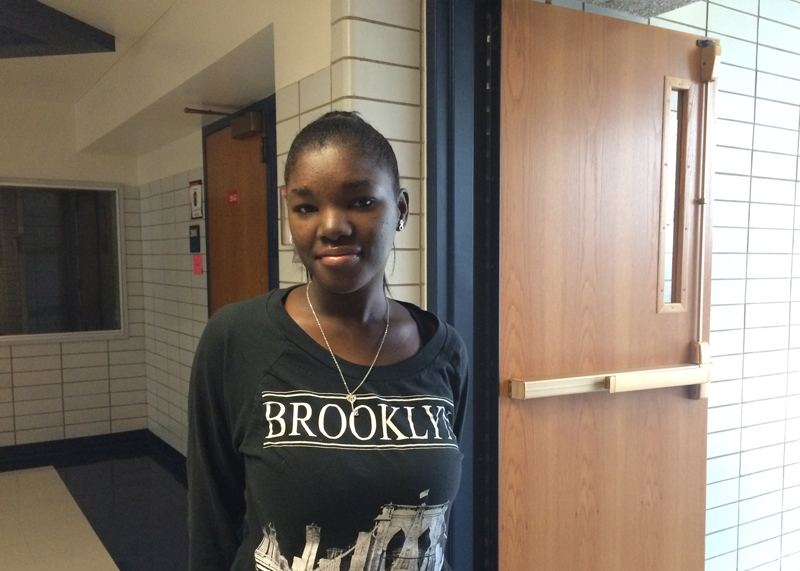 By Thea Gonzales
January 19, 2016
Editor's Note: This is the first in a series of 19 stories about last semester's Principal's Recognition Award winners who were recognized on Wednesday, Dec. 2 for outstanding achievement in specific programs. Junior Ajanay Rogers received the AIM Award (Achievement, Integrity, Motivation) and was nominated by Ms. Alexandra Hill.
In movement comes expression. Walking down the hallway, junior Ajanay Rogers may look caught in a different world with her headphones plugged in, but alone in her room, she embodies the spirit of fun through her movement.
"[Dancing] means to me to have fun and be more creative. I love doing dancing at school and at home. I really love dancing; I want to be a good dancer when I grow up and just have fun," Rogers said.
From ballet to hip-hop and dance moves she has created herself, Rogers' idea of a good day begins with remix songs and jamming out in her room. However, she didn't always feel that free in school.
As a freshman, Rogers struggled with shyness and talking to other people.
"I was shy before. I didn't where to go and always asked, 'where's my classroom?' I always put my head down– I'm shy still," Rogers said.
Through dancing both inside and out of school, she has found a way to express herself and connect with her peers.
"Ajanay is one of the most unique and kind people who loves to dance and play games," junior Bryan Jackson said.
Though socializing is a big part of Rogers' school life, she never loses sight of the importance of education, inspired constantly by her parents.
"My mom and dad– I love them a lot. They take care of me and treat me well in school: they tell me to not be getting Fs on grades, do my best focus in school, don't be on Facebook, focus in school, and no boys," Rogers said.
This focus in school has allowed her to be a better student– something that her teachers have noticed. True to the award's name, Rogers has been acknowledged for her achievement, integrity, and motivation with the principal's recognition AIM award.
"Ajanay is very participatory: she's always raising her hand and giving good input. She's very kind, and she's always the first to help other kids without being asked. She's also very determined to learn new things so if she doesn't get something on the first try, she keeps trying until she gets it," special ed  teacher Alexandra Hill said.
Rogers dances through life, bringing fun to others around her while also never losing sight of her goals.
"Outside of the classroom, I would say she's just fun. She's got a great sense of humor, she's got lots of friends because she's so friendly, and she likes to dance… and so she's always dancing around and making jokes and just being a kind and considerate person," Hill said.