Principal's Recognition: Nicole Camburn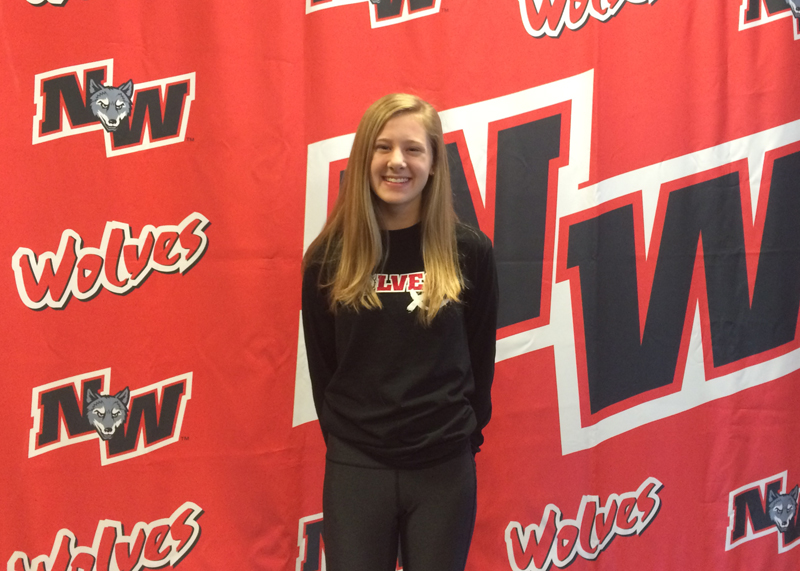 By Alex Ehrenberg
January 20, 2016
Editor's Note: This is the second in a series of 19 stories about last semester's Principal's Recognition Award winners who were recognized on Wednesday, Dec. 2 for outstanding achievement in specific programs. Senior Nicole Camburn received the Athletics Award and was nominated by Ms. Anne Heselton.
Whether she's qualifying for state or just doing suicide drills, senior Nicole Camburn is always on the run, literally.
" I have really enjoyed my cross country experience at West because I love being part of such a close-knit team," Camburn said.
This year, Camburn was co-captain of the cross country team alongside fellow senior, Danielle Karp.
"Some of our roles were to lead practice, encourage other girls on the team to keep a positive attitude, and help our coaches in any way possible. This is something that I hope to continue on the track team," Camburn said.
Coach Anne Heselton and competitively running have together played a huge role in Camburn's experience here at West.
"Running definitely plays a big role in my life because it has taught me a lot about hard work and provided me with so many experiences I wouldn't have without it. Coach Heselton has definitely impacted me because she has seen me at my best and my worst, and she is always willing to make changes to my training to help me be successful," Camburn said.
Camburn has not only been impacted by cross country, but she has impacted the track department as a whole.
"Nicole is one of the most improved athletes I have ever had the privilege of coaching. She has this laser focus where once she sets her mind on something, she is able to pursue it and achieve what she was set out to do," Heselton said.
After high school, Camburn plans to attend college for Biomedical Engineering and continue running whether it be competitively or just for her own enjoyment.
Previous installment in the Principal's Recognition Award series
Ajanay Rogers  –  https://www.nileswestnews.org/features/principals-recognition-ajanay-rogers/