Curriculum and Activities Night to be Held Wednesday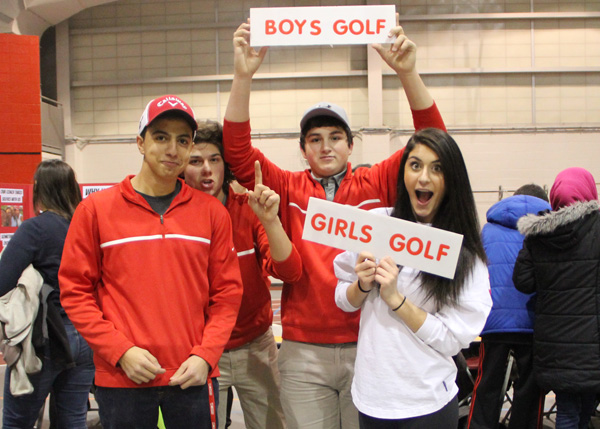 By Thea Gonzales
January 25, 2016
Niles West will hold its annual curriculum and activities night in the field house and contest gym on Wednesday, Jan. 27 at 6:30 p.m.
Operating as an open house, eighth grade incoming freshmen and their parents will be able to both find out more about activities and tour the building at their own pace.
"What we're doing differently this year is everyone's going to get their curriculum and registration information in the auditorium until about 6:50. After that, they can go on a self-guided tour. In years past, it got really hectic because we were trying to coral about between parents and families and kids — about 1500 people — so it was really difficult, and we also have families who have been here with the kids that have already gone through the building, and they don't want to go on tour again," student activities director Katie Odell said.
As parents and incoming freshmen tour the building, Niles West students from several different leadership organizations have signed up to guide families in the right direction: NHS students, peer leaders, student government, and homeroom mentors.
Another change to curriculum and activities night is the separation of athletics and activities. This year, to keep things more organized, the field house will be home to activities while athletics will take the contest gym.
In addition to those modifications in the night, Niles West activities have improved their displays so as to be more interactive with incoming freshmen.
"NW A cappella has made some videos to get word out to prospective students about joining Choir for next year.  We will have three bags where people can cast their vote for the best video.  We will do a drawing and current NW students can write their name, homeroom teacher, and t-shirt size on their ballot.  The winner of drawing will get a free NW Choir shirt for casting their vote for the best A cappella video," choir director Amy Branahl said.
According to Odell, the majority of students at Niles West got involved in extracurricular activities after freshman year; this is something that she wants to change.
"I hope incoming freshmen leave with the understanding of the opportunities that we have here at Niles West. I feel like freshmen– when they come in– are very hesitant to get involved at first. I was looking at when students tend to get involved and it seems like more often it's their sophomore year because they're kind of afraid and are figuring out high school and i want them to understand whether its athletics fine arts or activities that there's so many opportunities for them and i want them to pick something that they enjoy doing and not just use high school as an experience in the classroom but outside the classroom as well," Odell said.
Sophomore Sophia Cinquemani has jumped head first into Niles West activities since arriving to this school, getting involved with fine arts programs such as band and choir as well as math club. Because of her positive experiences with extracurricular involvement, she hopes to encourage incoming freshmen to join activities at curriculum and activities night.
"If you are a freshman who wants to be involved in a lot of activities, there is no reason you can't do it. Try to find things that you love, not things that make you look good or feel impressive. Many students only do activities because they think colleges want to see them do it. Colleges care about seeing you grow in a way that fuels your passion, not the number of things you're involved in. Use your time for doing things you love, and don't be afraid to try new things until you find that," Cinquemani said.