Meet Me in a Minute International Week: Debbie Kim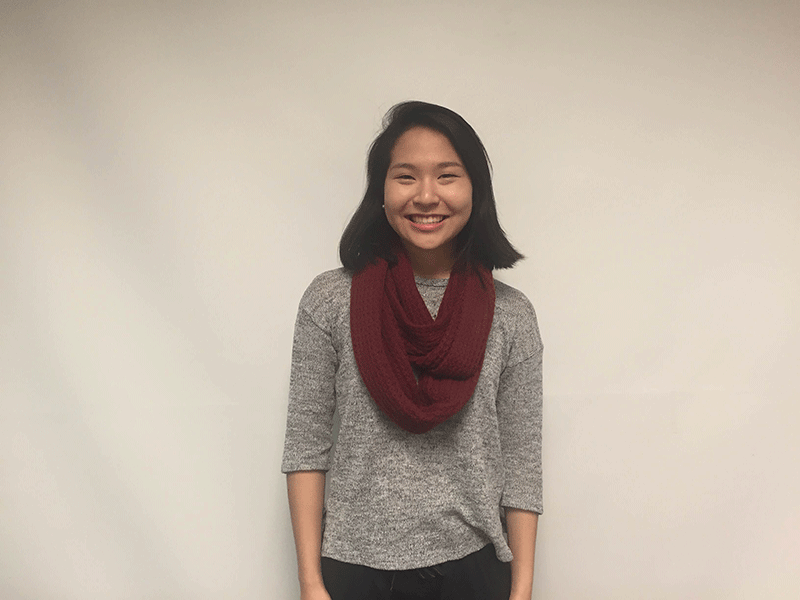 By Thea Gonzales
January 26, 2016
Editor's Note: This is the second in a series of 10 stories in celebration of International Week.
Roughly 6,600 miles away, Korea stands stoically in between the Yellow Sea and the East Sea. But for junior Debbie Kim, who once called that nation home, her Korea hasn't gone anywhere: it is something she brings with her wherever she goes.
Born in Seoul, Kim's first few years of life were spent moving throughout the country. Because of her father's ministry as a pastor, her family soon found itself on a plane to Chicago, ready to pursue a life in the United States.
However far they were from their place of origin, the Kims kept Korea in their home and raised Debbie to follow Korean customs while living in America. As a result, she grew up with the experience of two cultures at her beck and call.
"I feel like I have a really interesting point of view because I can connect to both sides. I guess I'm happy to be in the middle because I get a little of both. Korean is what I always grew up with, and English is my second part. As an immigrant, I'm different from most people who were born here. First there was Korean, and then English came along. I think it's nice that I was able to keep it because that's who I am," Kim said.
Along with the custom of eating and preparing traditional Korean food, Kim was also brought up in an environment that helped her hold onto her Korean literacy and speech skills: something that Kim greatly values because of how it has furthered her appreciation of Korean culture.
"The biggest value my culture has taught me is respect. In the Korean culture — it's really interesting and they don't have it in the States– there's a different type of way you speak to elders. It's really big in Korea: there's Banmal and Jondaemal. Banmal literally means 'half-speaking,' which is how you would talk to your friends. Jondaemal is to your grandparents or to someone whom you've never met. That's something that my culture has taught me: respect for elders and for anybody you meet, and that really shows up in the language," Kim said.
Outside of school, most of what Kim speaks, writes, and reads is in Korean. To her family and community, Korean is the primary language of communication and one that repeatedly ties itself to her faith.
Historically, though Korea's land mass can fit into Lake Michigan, it is one of the leading nations that send missionaries out of the country. As a child of a pastor whose sermons are completely in Korean, Kim has formed a connection to her culture through her faith and one day wants to go into the missions field with a background in the medical field.
Because of her far-reaching roots in Korean tradition, Kim sometimes finds herself wishing that more of the public celebrated not only Korea's popular music but its rich and beautiful history.
"There's Korean club and Asian clubs– I love them all and they're all my friends– but I don't participate in them. I feel like sometimes they really focus on K-Pop, and to me, K-Pop isn't everything about Korea. There's such a rich history of thousands of years. It's interesting… especially in Niles West, it's great to have such a big Asian community, but sometimes I feel like they focus too much on other things. I guess it's good that we have those because they're building blocks to learning about our culture, but ultimately, there's so much more to Korea," Kim said.
This passion to educate her friends and others around her about Korea has spread a deeper understanding of Korean heritage that Kim is proud to speak of.
"The reason Deborah is such a magnetic person is because her Korean culture is so prominent in her life, but she manages to make that side of her very accessible to people," friend and junior Lesley Ongyaco said.
Debbie Kim's Korea is one that refuses to give up. From across the world, Korea stands in the middle of the sea, unyielding to the elements and continuing on for yet another thousand years. Everyday she takes Korea in her walk, her talk, and in her hands: touching the people around her with a hardy hope that her country has taught her.
"What I love about Korea is that we are a country that is so small. But we are a country that doesn't give up. History-wise, Japan took us over in World War II. We fought for independence, and then right after that was the Korean War. It's only been 66 years. My grandma lost her whole family in the Korean War and that's something so near to us, but we overcame it. That's something I want people to know about Korea– something that I'm proud of as a Korean. Because we are a country and a culture that perseveres," Kim said.