Principal's Recognition Award: Kevin Thurman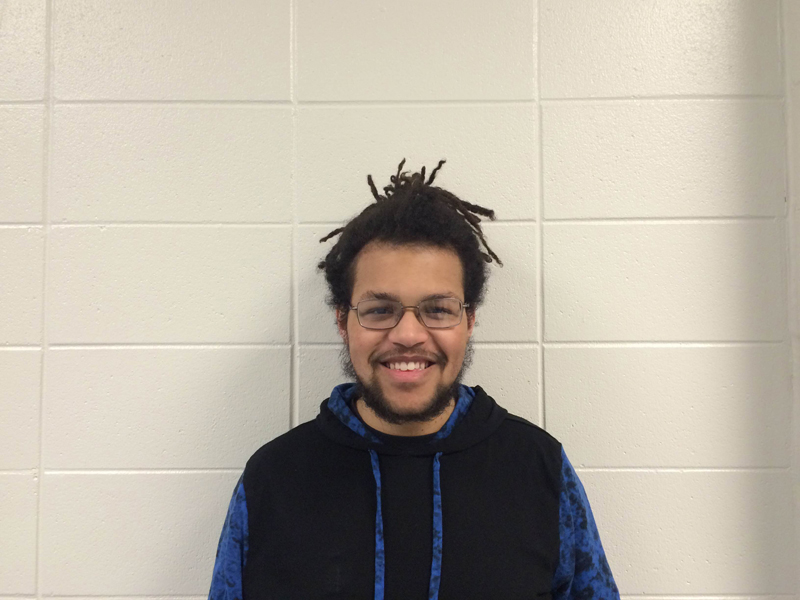 By Thea Gonzales
January 29, 2016
Editor's Note: This is the eighth in a series of 19 stories about last semester's Principal's Recognition  Award winners who were recognized on Wednesday, Dec. 2 for outstanding achievement in specific programs. Senior Kevin Thurman received the Fine and Applied Arts: Band Award and was nominated by band director Mr. Justin Johnson.
In his freshman year of high school,  senior Kevin Thurman was approached with the offer to play the bassoon in concert band. Knowing absolutely nothing about it, he agreed and spent the next few months playing quietly or not at all in class, a freshman in a new world, too afraid to make a mistake.
Today, the same scared musician is in Peoria, performing with the Illinois Music Education Association's (IMEA) Allstate Band for the second year in a row. Making IMEA Allstate is no easy feat; to make it twice in two years is a mark of self-discipline and musicianship. Thurman also plays with the Chicago Youth Symphony Orchestra (CYSO) and several other honor bands in the past, as well as with Niles West's marching band. In addition to symphonic winds, Thurman also performs with orchestra, choir, and the a cappella group, Guys and Dolls.
Despite the time commitment that comes with performing with four different ensembles, Thurman's philosophy on music and happiness are synonymous: uncomplicated and pure.
"Music…. I just like making music. Everyone has all these crazy things to say about it like, 'Oh man, it means so much to me. When I get up on stage, I get so–' but I just like making music. That's it," Thurman said.
Earlier last month, he received the Principal's Recognition Award for excellence in band, something that band director Justin Johnson knows is well-deserved.
"I thought of Kevin for the award because he is an excellent example of what other students should aspire to be. He exudes the spirit and values of the band through his work ethic and attitude. He always helps and leads when things need to be done and sets an excellent example for others to follow," Johnson said.
This attitude manifests itself in several areas of Thurman's life, turning the simplest of tasks into challenges that are ultimately rewarding.
"I've always been good at figuring things out. I think it might be my mindset. If I'm really trying to do something, I don't get giggly about it. Say, for example, gym class. We had to do snorkeling and we had do some maneuver that I had never seen before — and no one else had seen before– and it looked super crazy.  A lot of people would say, 'Woah, that's crazy. I can't do that.' And I'd just say, 'We'll see.' If I want to do it, I'm going to do it," Thurman said.
In both the classroom and the marching field, Thurman has shown leadership, inspiring sophomore and next-generation bassoon player Christopher Witt to strive for excellence.
"I think he deserves the award because he's a leader. He's always willing to teach people about music or help anybody with things they need, and he always becomes the leader in a conversation," Witt said.
Though his accomplishments show off his determination and high attention to detail, Thurman is surprisingly cavalier about being recognized for achievements, presenting a refreshing humbleness that makes him both intriguing and approachable.
"People know that I look that the Weekend. They know that I have dreadlocks? So the first time someone meets me, they think, 'Oh. He looks cool.' Too many people think I'm cool, but I'm not that cool," Thurman said.
To his friends and loved ones, music is as much a part of him as his last name.
"Besides being a great friend, he's a talented musician and a hard worker. Efficiency is his thing when it comes to practicing. I think it's awesome that he's been recognized for his work," girlfriend and senior Amanda Pusateri said.
Amidst the packed schedule of a 9-period day and another rehearsal-filled evening is an intelligent mind that waits behind a quiet presence, finding catharsis in introspective activities like fishing, film analysis, and taking care of marine wildlife in specialized tanks. When asked about how he deals with the stress of all four ensembles on top of regular life and school responsibilities, Thurman's simple philosophy comes again.
"I just remember that everything is so insignificant in the grand scheme of things. I hope to live forever– or at least long enough that I can clone myself," he said.
Previous installment in the Principal's Recognition Award series
Marissa Scarbro  –   https://www.nileswestnews.org/features/principals-recognition-award-marissa-scarbro/