Semi-Finalists for Poetry Out Loud Announced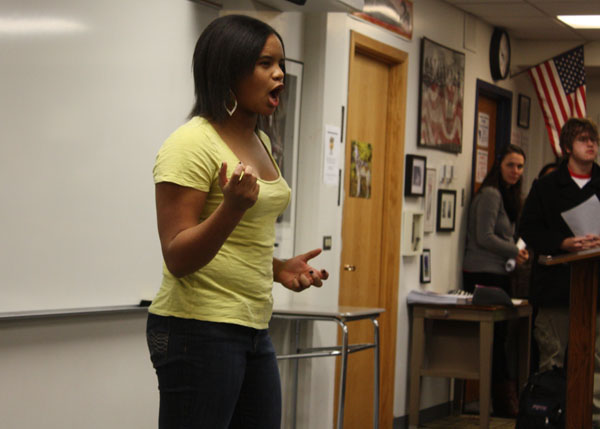 By Sarah Govis
February 2, 2016
Niles West's Poetry Out Loud finalists have been announced. The students have made it through the first school-wide round, and the remaining students will compete against each other one more time. The finalist will then compete in the Regionals in Des Plaines.
The semi finalists are Roblyn Antenor, Darby Chamness, Angela Christdoulou, Isabelle DeLaCruz, Thea Gonzales, Alana Knobel, Ilana Maitano, Sarah Montes, Namukwaya Charlote Namakula, Alba Note, Adisa Ozegovic, Sihah Reza, Nasim Salehitezangi, Parth Shah, and Priyal Soni.
Coordinator Sharon Swanson knows that the competition will only increase from the last competition.
"The competition will get tough. One of the things that really makes a fine line is the kids who are too over dramatic — that seems to work against them. A lot of the time kids who have a little bit of theater experience have that little edge. People from other schools live and breathe this stuff,"
Students are excited to move on in the competition.
"I'm really excited to be part of Poetry Out Loud this year! It's my first year doing this and it seems like a lot of fun. I love listening to poetry and I can't believe that I actually get the chance to do it. And everyone is talented and I will be a tough competition," junior Alana Knobel said.
Students are also happy in that poetry gives them another point of view.
"I am so excited because Poetry Out Loud allows me to see poetry out loud through the eyes of a different human. It shows me different points of view," junior Namukwaya Charlote Namakula said.