Principal's Recognition Award: Tia Mitchell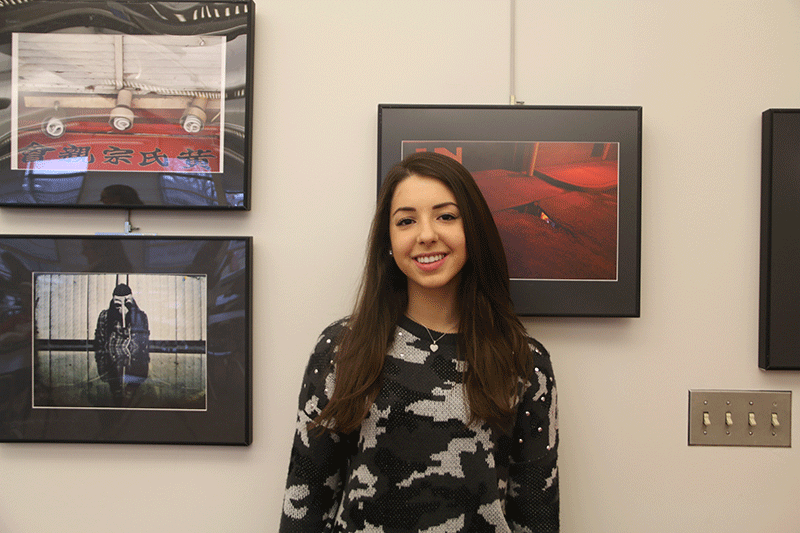 By Katrina Nickell
February 2, 2016
Editor's Note: This is the eleventh in a series of 19 stories about last semester's Principal's Recognition  Award winners who were recognized on Wednesday, Dec. 2 for outstanding achievement in specific programs. Senior Tia Mitchell received the Fine and Applied Arts – Visual arts Award and was nominated by Ms. Deanna Sortino.
You can often find senior Tia Mitchell, president of National Art Honors Society, in room 1730 during various periods of the day working on her photography. Mitchell has been a part of the Fine Arts Department since her freshman year, taking part in various photography and graphic design courses.
Mitchell's love for photography began early in her career when she was assigned a project in her Digital Photo 1 class.
"I became passionate about this medium. The project was a mask and dolls photo shoot inspired by the artist Ralph Eugene Meatyard," she said. "In preparing this piece, I experimented with breaking the rules of symmetry, experimenting with the filters and colors, and creating a border. I was thrilled with the final results."
The success of this specific image won Mitchell a National Silver Key and Regional Gold Key in the 2014 Scholastic Art and Writing Competition. Mitchell has also been awarded the Regional Silver Key for 2015 and has been featured in various galleries and art shows.
When asked about her nomination for the Principal's Recognition, Mitchell remained humble and is very grateful for the opportunity.
Mitchell said, "I am truly honored that I was chosen for this award considering how many other talented classmates there are."
Mitchell is also very thankful for the program that Niles West has provided her these past four years.
"The art department has given me the tools to get to this point. Throughout my 4 years here, I have had the opportunity to get teachers' guidance, access to the photography labs, artistic school field trips, and AP art classes. All of these have given me a deeper understanding of art and photography," Mitchell said.
Her passion for digital photography that began here at Niles West is also what influenced her to decide her major for college. While Mitchell is still deciding between The School of the Art Institute Chicago and Columbia College, her declared major will be Digital Photography.
Previous installment in the Principal's Recognition Award series
Nicole Miller  –  https://www.nileswestnews.org/features/principals-recognition-award-nicole-miller/