Principal's Recognition Award: Kapree Watson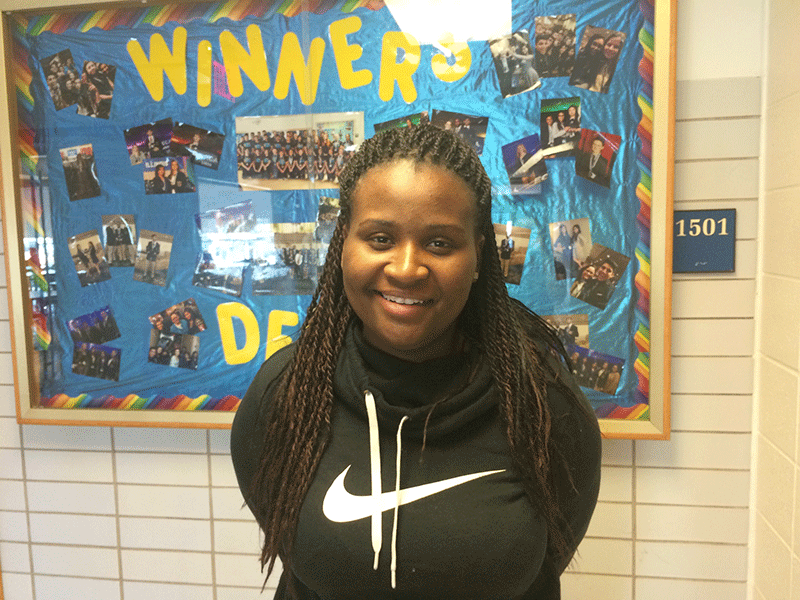 By Shannon McHugh
February 10, 2016
Editor's Note: This is the seventeenth in a series of 19 stories about last semester's Principal's Recognition  Award winners who were recognized on Wednesday, Dec. 2 for outstanding achievement in specific programs. Senior Kapree Watson received the Student Activates Award and was nominated by Ms. Katie Odell.
The dream all started in the sixth grade for senior Kapree Watson. She was on a step team, but being so young prevented her from doing all the complex moves so she barley preformed. When high school came, it was her goal to start her very own step team. "It was difficult to start the step team because a lot of people didn't know what it was and thought that they weren't capable of doing it" said Watson.
Even with the drive and hard work Watson put in, she couldn't do it alone. English teacher Ms. Ellen Foley and Special Education teacher Ms. Alexandra Hill are both co-sponsors for the step team.
"Ms. Odell, Ms. Hill and I wanted to recognize Kapree because she is an incredibly generous leader. Step requires a lot of patience because the moves are so complicated and people learn at different paces. She's great at breaking down each part so everybody gets it. She is also a very selfless captain – she lets others shine by encouraging the team members to create and teach their own steps. If an outsider came to practice, it may not seem like Kapree is "in charge" because she's open to other ideas and goes with the flow. This makes practice and the performances really fun because there is a lot of creative energy coming from everyone, not just one person," Foley said.
Along with Watson making such a difference in the student community, she also left her footprints on staff members.
"It has been such a honor to co-sponsor the club because of the rich cultural history of stepping in the African American community.  I am very proud of all the hard work that Kapree and the rest of the club members have put into the club and all that they have achieved in the past year and a half," Hill said.
To perfect their steps, step team practices every Tuesday, however, when assemblies are around the corner they practice three times a week. Watson and her team take on the difficult challenge of making up their own steps for each performance. Her next goal is to eventually start competing with other step teams, but for now show off their talent in other local areas.
She never thought that her dream would be possible to accomplish, but Watson has seen a lot of success for the past year and a half.
"I am proud of my team of course, but I know we are always capable of being better," Watson said.
Previous installment in the Principal's Recognition Award series
Sana Shariff  –  https://www.nileswestnews.org/features/principal-recognition-sana-shariff/