Special Ed Students Run Coffee Cart for Teachers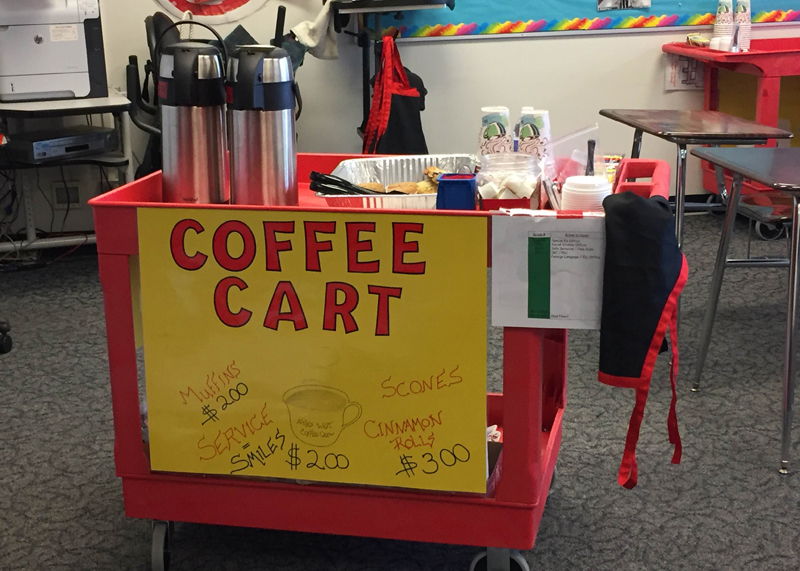 By Katrina Nickell
February 10, 2016
Every Wednesday and Friday before and during first period, teachers will be able to purchase pastries provided by Sweety Pies Bakery and Intelligentsia coffee. They are being delivered on a coffee cart and served by the students in the Niles West special education department.
The idea was created many years ago by special education teacher Marie Grunst, but not executed until this year. The idea really took hold beginning this semester with the help of principal Dr. Jason Ness. Ness had shared a video about the successful impact of having a coffee cart and assisted with the start.
Special education instructor and organizer of the cart Alexandra Hill finds this opportunity to be very valuable to her students and hopes to help with their future lives.
"By having our students participate in the coffee cart, they are learning important vocational skills that will hopefully help them get a job and become productive citizens within our community," Hill said. "The students are also gaining confidence and learning social skills that will help them maintain positive relationships with both teachers and peers."
These skills special education students obtain help with skills they are learning in their classroom. They learn to budget, plan, and manage. Something that is not as easy to learn in the classroom.
English teacher Sally Graham is enthusiastic about the coffee cart being created.
"I think it's a prefect idea. It is so creative and a way to get the Niles West community involved in different ways. I am especially excited about these students running it," she said.
Julia S. Malloy Education Center, a school that primarily focuses on special education, has a similar program to the one created here at West. They created "Coffee on Fridays" and set up a cafe for staff and students.
Graham is very supportive of the idea and is happy to see it branch to Niles West.
"I am a strong supporter of that and I think this is a great idea to do is as a cart and have a lot of different people interacting: teachers, students, and the special education students," she said.
The proceeds benefit the special education department and their outings they take together.
"These outings help the students generalize things we learn in the classroom and help them learn community-based skills such as taking public transportation, using elapsed time to make a plan, making purchases, etc.," Hill said.
With one week under the belt, Hill is very excited about the success thus far.
"The first week was amazing! We had excellent sales and the teachers have been so generous and so patient and kind to our students," Hill said.
Although the coffee cart is limited to teachers and staff, their is hope to have this cart expand and be offered to students in the future once a better understanding is established.