Debate Team Competes at Nationals
By Mara Shapiro
April 11, 2011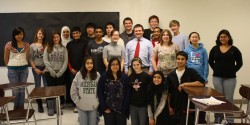 The Niles West Debate Team participated in the Novice Nationals in Atlanta on April 2-3.
Sixteen members from all four grade levels competed including: freshmen  Emma Lazar, Breana Brill, Theo Noparstak, Vinay Patel, Jessie Amgalanjargal, Lia Isono, Kris Trivedi, Sana Khan, and Alyssa Guzman ; sophomore Jonass Placitis; junior Nashisha Alam; and seniors captain Sarika Malani, Rimsha Baig, Justin Kang, Jerry Varghese, and Art Siriwatt.
Sponsor Eric Oddo said he feels that the students did a great job in the season, overall.
"The kids did such an excellent job and are so committed. I'm looking forward to seeing the team grow into a national powerhouse," Oddo says.
Though the team did not place, sophomore Jonass Placitis said he had fun anyway.
"It was a good experience," Placitis says.