Chess Team Makes the Right Moves at State
Niles West's chess team placed 60th out of 146 teams at the Illinois High School Association (IHSA) state chess tournament in the Peoria Civic Center on Friday, Feb. 12 and Saturday, Feb. 13. As a team, Niles West won four out of its seven matches.
At most chess tournaments, there are 10 students who attend the competition: eight competing players and two alternates. Over the course of two days, there are seven matches at seven tables. The win for each board is worth a different amount of points, and each match lasts 45-55 minutes with a five-second delay for players to write down their moves. The team that scores the most collective points gets the highest rank.
Sophomore and two-year chess team member, Skylar D'Souza, received a medal for Best Individual Performance as a result of his success at six out of seven tables.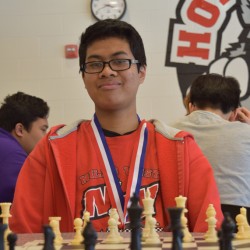 "I usually think one or two moves ahead to get the idea of what's going to happen next," D'Souza said. "I also memorize a bunch of different openings so I know what to do when someone does something I don't expect. Chess is fun and interesting. It's not only for 'nerdy' people: it's strategy, it's intellectual. It helps you with problem-solving skills. Chess means that I've got to take some time — 55 minutes — to think about what I'm going to do. I've gotta make that move and see the impact that it makes in the game."
During matches, speaking or communicating with coaches is prohibited, so most of the chess team's work comes before competition.
"Coaching chess is all about preparation," coach Michael Boll said. "Coaches are not allowed to talk or even make eye contact with players during a match, so we focus on strategies and fundamentals during practice.  We learn common strategies like forks and pins, as well as working on common opening sequences like The Sicilian Defense and how to develop pieces to create a strong position that gives you a better chance of winning later in the game.  The biggest thing is to focus on making good moves and making sure every move has a purpose."
For senior Charlie Claus, chess team is a club that has given him purpose in the school. During the four years of his high school career, he competed in tournaments with Niles West, and at his last competition, he played at first board: the table reserved for the best player on the team.
"Chess club is very fun," Claus said. "We're not very serious, though our coaches pretend that we are. We just come together and have fun, and it's more about talking and making friends than playing chess — that comes second. I now have a place in this school. Chess club is my home. It's my home."