Meet Me in a Minute: Alexandra Vraja
Twirling around and belting out all around the stage, sophomore Alexandra Vraja has come to realize dancing and singing are things she loves.
She started both at a young age because her mom decided to sign her up for a class, but she didn't necessarily think she'd like it.
"Singing and dancing is something I've been doing all my life. I first started when I was four because my mom made me join a dance class and I didn't know if it'd like it at first, but then I realized I loved it," Vraja said.
Dancing is the main focus, and is a great way for her to relax and have fun.
Vraja said, "my favorite thing about dancing is that it helps me relieve stress. Whenever I'm having a bad day I know I'll feel a lot better after practice. I love the feeling I get right before a performance, it's nerve-racking but I just love it."
Singing is more of a hobby, but Vraja does it for fun and will post videos of herself singing covers on her Instagram @alex_vraja.
"I don't really like singing in front of people, that's why I joined choir in sixth grade. I have a lot of fun singing with a group because nobody will know if I mess up. I occasionally post videos on Instagram of me singing but I tend to delete them after a couple of days," Vraja said.
Niles West Choir actually started her friendship with good friend sophomore Amanda Isaac.
"My best friend, Amanda, is in choir with me and we actually met in choir freshman year," Vraja said
"We both became friends because we both have a fun, outgoing personality. It's really fun to sing with Alex because when we both mess up a song, we just stare at each other and laugh. It's actually helped our friendship because we both love singing, especially together, if we aren't singing, something's wrong," Isaac said.
Poms teammate, freshman Nirvana Meseljevic is thankful to be on a team with her.
"Alex is a really good teammate and she helps anyone who doesn't know exactly what to do, and that makes me enjoy her as a teammate because she wants everybody to do their best and dance it all full out. She is a very good leader and I see her being a captain in the future," Meseljevic said.
Vraja has just finished her Poms season on junior varsity with full intentions to try out for varsity.
About the Writer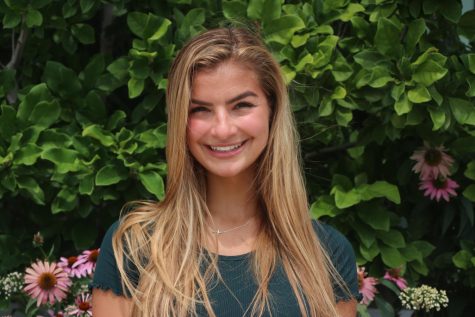 Christina Lappas, Editor in Chief
When she's not studying or doing homework, Christina loves to hang-out with friends and sleep. She is excited to be the editor-in-chief as a senior and...