Spring Choir Concert to be Held Tonight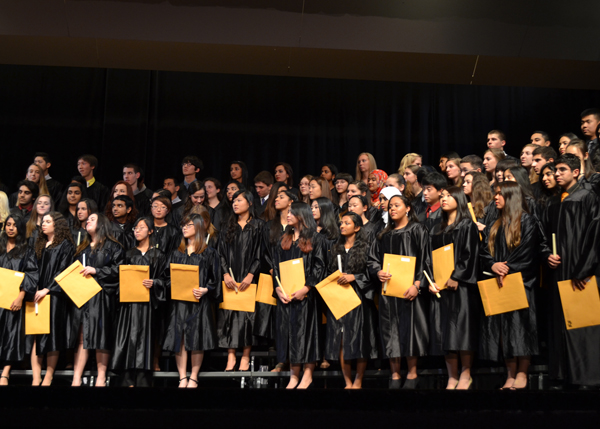 By Farheen Khan
March 17, 2016
Niles West Choir is scheduled to hold the spring choir concert in the auditorium Thursday, March 17, at 6:30 p.m.. This is the annual Spring Concert, and the last for many seniors.
All choirs, including Choraliers T and B (the Men's Choir, Advanced Women's Choir, and Gospel Choir), will perform. They will perform various songs, not only in English but also in other languages, including Spanish and Latin.
In this concert, the choral department will be performing alone.
"This is the concert in which the choral department will be performing alone and we have prepared a variety of pieces to showcase here. It's the time we show our entirety along with Gospel Choir and our school's a cappella groups. I am looking forward to see everything to be put together in this one concert," choral direction Amy Branahl said.
Students are excited to perform more difficult songs they've been preparing for months.
"I'm really excited to showcase the harder songs from Masters. We've been working on [a collegiate level song] since before winter break. And then, I'm excited for just all the a capellas to perform because there's very limited times where these kind are showcased around the school," junior Raciel Millan said.
Students feel that it's exciting to perform songs in different languages and will be a great multi-cultural experience.
"I feel that it's more of an excitement to learn a song in a different language. In choir, we learned many different songs in many different languages; it exposes us to different styles of music, so it gives us a good experience as well as a challenge," junior Junica Cruz said.