Aleks Krapivkin: The Theatre Great
By Mara Shapiro
May 20, 2011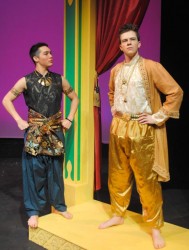 Senior Aleksandr Krapivkin struts across the stage in the Robert L. Johnson auditorium, snapping his fingers and bossing his servants around. He is playing the role of The King in Niles West Fine Arts Department's The King and I. He charms the crowd as he makes witty remarks and does his best to have a Siamese accent. Finally, the curtain ends and the show is over. This is what Aleks's life has been like since he was a freshman at West: a curtain opening and closing.
Aleks's claim to Theatre fame started when he was only 12 years old. His mother signed him up for the "Summer on Broadway" summer camp. Aleks  fondly remembers that the camp was highlighted in pink on the brochure and that he didn't want to take part in anything to do with theatre and, instead, wanted to do art exploration.  However, a star was born when he became the main character, Seymor, in Little Shop of Horrors.
"It was my first year I was in the U.S.( his  family is from the Ukraine.) It was the most exciting experience I have ever had."
Since then,  Aleks has participated in 24 Niles West Productions, including The King and I, Air Guitar High, and Rabbit Hole, to name a few.
Aleks loves theatre in general, specifically Niles West Theatre.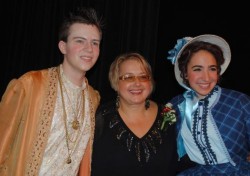 "We get to work together as an ensemble. There has to be a collective feeling. Theatre brings you really close together with the people you're working with…the emotion put in by the actors in production is incredible," he said.
Aleks loves theatre so much that he has decided to major in Musical Theatre at Milikin University.
"It's a nice feeling when you know what you want to do with the rest of your life," he said.
He also feels that students who haven't tried Theatre should give it a go at least once. Theatre, however, is not the only aspect of  Aleks's life. He is currently taking AP English, AP Euro, is the president of Thespian Society, and is an active member in Vocal Jazz, Guys and Dolls ( he's been a tenor for four years), and Master's Choir.
"Fine arts is absolutely wonderful," he said.
This is Aleks's  life, and it is clear that he wouldn't have it any other way. He is a very friendly, smart, talented, and passionate young man. Ask him any questions about Fine Arts and he would help you in a heart beat.
Aleks' last performance at Niles West will be the Improv Show on Friday, May 27.

Fun Facts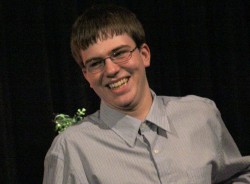 NWN: What is your favorite musical/ play?
Aleks: "Rabbit Hole and Next To Normal."
NWN: Who is your favorite actor/actress?
Aleks: "Actor: Johnny Depp. That man is amazing. He personally works one-on-one with his character. Actress: Natalie Portman."
NWN: What is your favorite show?
Aleks: "V or Modern Family."
NWN: What is your favorite book?
Aleks:"The Color Purple and The Lightning Thief."