Leah Hummel: Costume and Actress Extraordinaire
By Mara Shapiro
May 26, 2011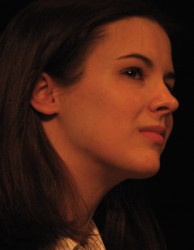 Senior Leah Hummel sits at a table in the Black Box Theatre. She  is portraying a salesman in Niles West Theatre's The Director's Studio. She tries to sell fellow actress, senior Sarah Hernandez, light bulbs, but even with her charming pitches she still fails. The scene goes on, and it's another production well done for Leah. Theatre has been an integral part of Leah's life since she was a part of the production Once On This Island second quarter of her freshman year.
"Theatre is the best thing that anyone can do with their lives," Leah says.
When Leah was younger she went to theatre camps, but they weren't as professional as Niles West's Theatre department. Since  her freshman year, Leah has been a part of 26 productions, including Rabbit Hole, Once On This Island, and The Director's Studio. Besides acting, Leah also helps out with costumes for the shows. Recently, she did the costumes for The King and I.
"[Theatre] is the most amazing art form. [It] has the biggest impact on society," she says.
In her spare time, Leah is an amateur graphic artist. She likes to write poetry, watch movies, and eat. She also takes challenging classes at West, like APES.
Leah will be majoring in Theatre Design and Technology at Western Michigan University in the fall, but she definitely will not forget her experiences at West.
"Niles West Theatre is one of the most outstanding theatre departments."
Leah's last production at Niles West will be the Improv Show on Friday, May 27.
Fun Facts:
NWN: What is your favorite play/musical?
Leah: "Hair at the Western in London with the original revival cast."
NWN: What is your favorite movie?
Leah: "Every [Johnny] Depp film." He is also her favorite celebrity.
NWN: What is your favorite show?
Leah: "Ru Paul's Drag Race."
NWN: What is your favorite food?
Leah: "Buttery and flaky croissants."