Students Protest Budget Cuts in Springfield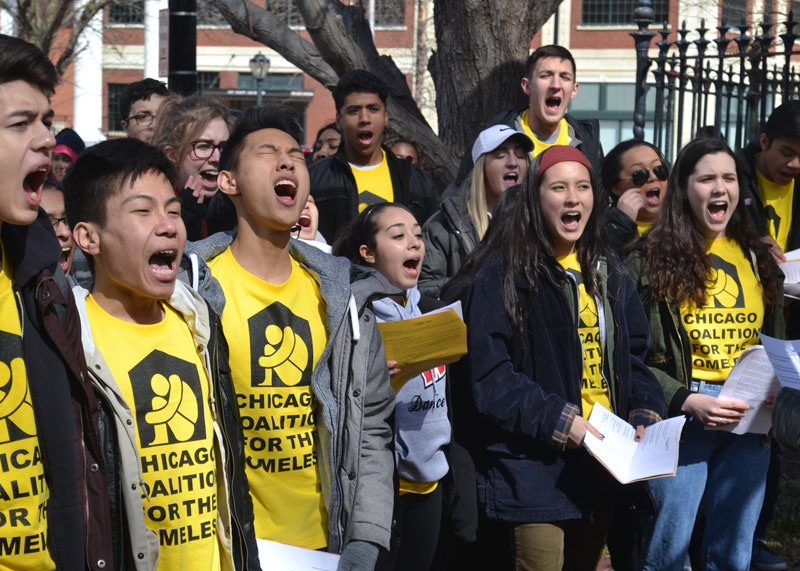 By Sarah Govis
April 11, 2016
Members of The Chicago Coalition for the Homeless, Niles North, and Niles West students went to Springfield, Illinois on Tuesday, April 5 to protest the budget cuts created by Governor Bruce Rauner. The budget cuts effect the homeless people living in the city of Chicago among many others.
With the proposed cuts, several homeless shelters in the city would be forced to shut down.
Teachers appreciated knowing that students took the issue seriously and wanted to participate.
"We have homeless students who are in our district and our students who chose to go decided it was important to let people know that homelessness is a human rights issue. It is not just an issue that effects people who live in certain parts of the city. There are people within our community who are homeless as well," English teacher Dena Lichterman said.
Going in a large group made for an exciting experience for those involved.
"It demonstrated that everyone has a voice and the more voices we have, the stronger we are. It was a really amazing experience to have all these students go to collectively give their voices to fight for human rights," Lichterman said.
Students were inspired by the fact that their voices could potentially change the outcome of the proposed bills.
"Springfield was such an amazing experience because a lot of the time when we hear about things that should be changed we feel like one person could never do anything," senior Caitlyn Beutelspacher said. "To actually go and support homeless youth all together and know that we do have the power to make a change is really empowering."
Being able to speak out for others was a moving experience.
"What I liked about the trip is that it allowed me to speak up for those who have been put down for so long. It felt so good standing up for what's right and I would do it all again in a heartbeat," senior Alex Gruezo said.
Students will continue to help as this year's Dance Marathon selected program is The Chicago Coalition for the Homeless.