DECA to Compete at Internationals in Orlando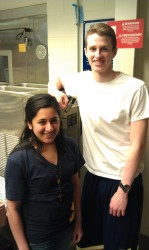 Eleven Niles West DECA members will compete against 14,000 high school students from all over the world in Orlando, FL for the international competition.
Students who qualified have been working diligently to earn a spot at Internationals, according to DECA sponsor Eric Lueder.
"There are four different groups, each group in their own competition, competing with the project they've been doing since the beginning of the year," said Lueder.
Each group must have an oral presentation as well as a written paper that can run up to 20 pages long. The projects will be judged based on these two criteria.
The students that qualified for internationals are seniors Jessin Joseph, Fiona Mohan, Nicole Moy, Patrick O'Connor, and Reine Rambert; sophomores Cody Inglesby, Joel Nelson, Robert Urosev; and freshmen Anna Antonow, Zuzanna Antonow, and Smita Jain. According to Lueder, placing at Internationals is a huge accomplishment.
"It is difficult to win first, second, or third place at Internationals. It was only done twice in past 15 years [by a Niles West student]," said Lueder.
In addition to the competition, students will be hitting up Disney World and Universal Studios.
Qualifying DECA members arrive in Orlando on April 29 and stay there through May 4.