Niles West Holds Annual College Night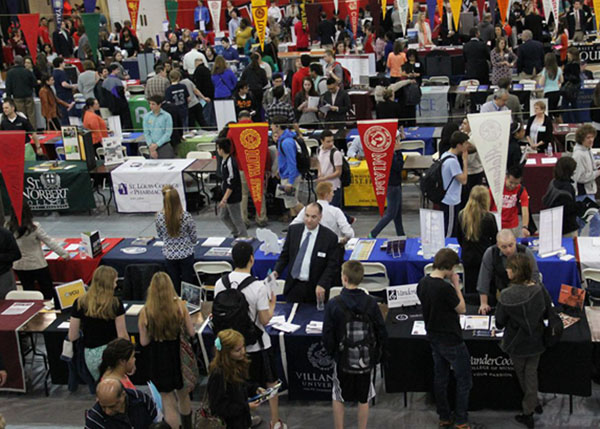 By Shannon McHugh
April 15, 2016
Hang on for a minute...we're trying to find some more stories you might like.
Niles West's main gym, cafeteria, and hallways were swarming with eager Niles West and Niles North students last night for the annual college night. Over 230 colleges set up their stands to inform the frantic students about why or how their college would be the best fit for them.
From 6:30- 8:30 pm, all grade levels buzzed around, holding endless pits of bags filled with brochures on what could be their next home. Junior Johnny Pabst was hopeful to discover new colleges as well as narrow down what kind of college would be the best fit for him.
"What I hope to get out of this experience is to get a better sense of what is the best kind of fit for me," Pabst said.
However, the halls weren't just filled with over a hundred students, teachers, and colleges. Our very own Niles West counselors attended college night as well. They helped students find the college booths they needed and gave their support to those familiar faces they have been helping since they were tiny freshman. Luckily, in addition to the amazing Niles West staff, Niles West's college advisor Dan Gin spent the whole night roaming the halls talking to students and parents for support.
"I hope that the students and parents that all came here tonight leave today with a better idea of what they want for their future, and that they have a list of schools that can get them there," Gin said.