NSPA/JEA: Advising the New Generation of Journalists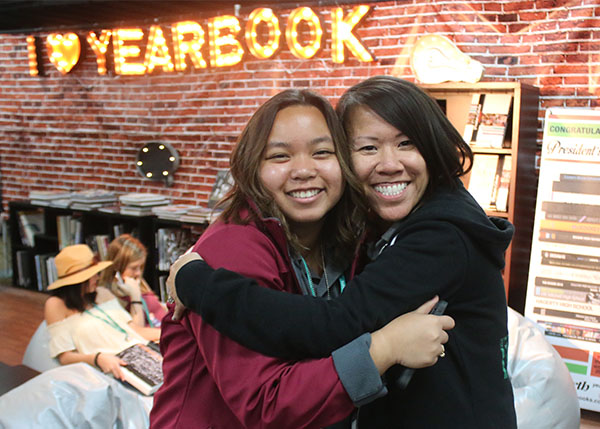 By Sarah Govis
April 15, 2016
[youtube]https://youtu.be/2Qao5R272Fs[/youtube]
Over 3,800 attendees have traveled all across the country to take part in this year's Spring National High School Journalism Conference in Los Angeles, California from Thursday, April 15 to Sunday, April 17.
All the students who are in attendance are either a part of their high school's yearbook or newspaper. Along with this comes a wave of different advisers with a variety of teaching styles; no two advisers are exactly the same. However, many of the advisers here with students are nominated for awards. These teachers all possess such different qualities but are still able to win awards. So what characteristics is it that make these advisers so successful?
Some teachers believe that their defining characteristic is their ability to connect and relate to their students.
"I think what makes me a good adviser is that I'm relatable to the kids. Their last adviser was very old school and I think being relatable has helped me a lot with this. I did yearbook when I was in high school and I really enjoyed it. The yearbook adviser spot was open at school so I took it, and now it's all I want to do. I love making the actual yearbook, and a lot of what makes it special is the kids. Since I rolled up from middle school, I'm going to have some of these kids for seven years, so you have this bond with them. I see them more than their parents sometimes," adviser Christina Porcelli-Wilson of the Panther yearbook at Plant High School said.
Others think that by empowering students and giving them freedom makes their publication unique to them and more personal.
"I think I empower the students. It's their yearbook, not mine. My motivation was being able to work with students doing something they're excited about. There's so much heart and soul that goes into a yearbook by the time it comes out. It's like giving birth to a baby," adviser Stephanie Chapman of Skybound yearbook at Skyline High School said.
These advisers not only influence their students in school for their publications, but also in the grand scheme of things, such as what their students will study when they attend college.
"She listens to our ideas and helps us get whatever we think onto paper. She helped me figure out what I want to do in college — I want to go into graphic design. She made me more determined to get things done and be on top of things," Jessica Richards, also of Skybound yearbook, said of Chapman.
Being able to admit that they aren't perfect even after years of work and experience is another key quality to being a successful adviser.
"I hope that I'm a good adviser. I try, but I'm not perfect. I have no problems admitting when I'm wrong and saying when I don't know something, because that can happen a lot," advisor Lori Keekley of The Echo newspaper at St. Louis Park High School said. "I'm a journalism major and have a degree from Indiana. I've been involved in student publications since 1986, so I have a lot of experience but I still don't know everything."
Advisers have continued to stick with journalism education mainly because of the positive impact they have on their students.
"I was student teaching when I realized it was really great working with students on a daily basis. Working with students is what makes this so special," Keekley said.
Students appreciate autonomy over their publication instead of having their adviser make all of the decisions for them.
"What I like about our adviser is that she has a good balance between being a hands off adviser but at the same time, pushing us in the right direction we need to go to be a solid student publication. She'll let the editors in chief make the final decisions and let the content editors do as they please, but at the same time, she'll be there to mentor us in any way that she can," Ethan Brown, also of The Echo, said of Keekley.
Keekley's motherly influence has had a beneficial impact on him.
"Once I got on the paper, she was almost motherly in an aspect. You know she's not just there to teach you, but mold you as a person as well," Brown said. "I think as a person I've just learned a lot more social skills. I've learned how to care about people a little more. As I said, she has that motherly aspect to her. I've learned how to show appreciation toward others more than I could before. I learned how to communicate with others. I'm building those skills that not only help me for journalism, but also will help me in regular life."
Being able to teach brand new staff members and work with them to improve their skills is vital.
"Our staff is pretty small and they're all new to journalism, so understanding that there are some students that are more motivated and talented and some who are not as motivated is important. Just going alongside the students who are struggling and giving them helpful and specific feedback on how to go deeper in their stories, how to improve an interview, and showing them inspirational pieces of writing or photography, and celebrating their successes is essential," adviser Alexandria Lau of Wildcat newspaper at University High School said.
Advisers have to work with all different types of students, so learning what works with each student's individual learning style is needed. These teachers are able to adapt to be able to have an influence on them both in and out of the classroom. Ultimately, they are ones influencing the newest, youngest wave of journalists.
[nggallery id=481 template=galleryview]