NW Theater Presents: Annie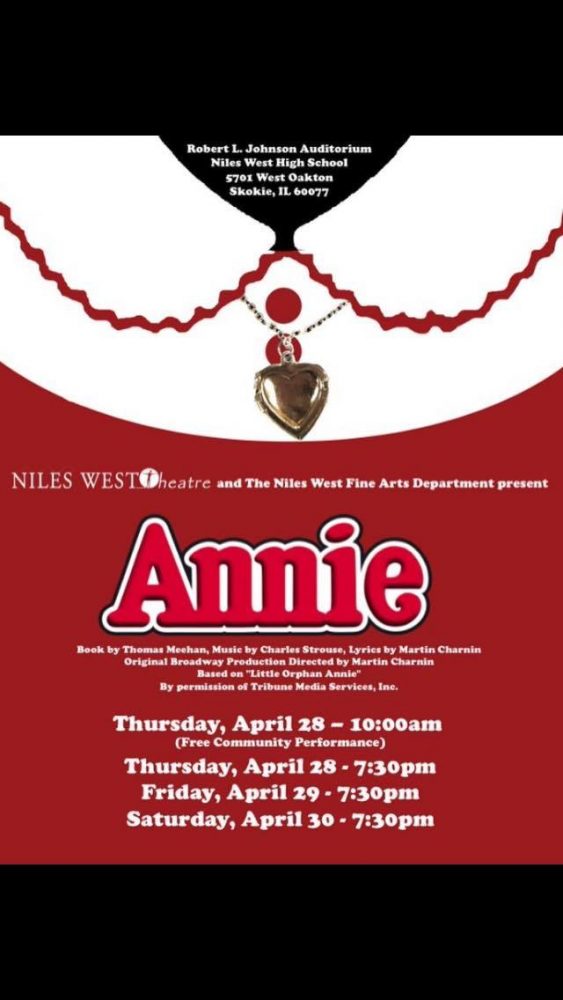 By Sana Kadir
April 27, 2016
This week, Thursday, April 28 to Saturday, April 30 Niles West Theater will be presenting "Annie" in the blackbox theater.
"After 'Avenue Q' and 'Shrek' for the past two years, it was time to do a classic musical.  Plus, I had noticed that in the fifty year history of this school, 'Annie' has never been produced by Niles West Theatre during the school year.  That seemed like the right choice at the right time.  Plus, I like a big musical that you can bring the whole family to see," theatre director Andrew Sinclair said.

West Theatre has been working on Annie for about six weeks. It also features over 100 creative students and adults in this production. 

"I am really excited for this show because it is very iconic and classic. I play a kid in the show so being able to do that is so much fun. I think people should see this production because it is a classic that we made our own. Plus, in the show we brought a dog named Sandy. It came to all our rehearsals and we treat it like like it's an actor," junior Alissa Santana said.
On Thurs. April 28 there will be a free performance for the community at 10 a.m. From Friday to Saturday, the show will start at 7:30. Sinclair urges friends and families to come and see the play.
"It is a great showcase of the talent at Niles West.  I guarantee that audiences will have a great time. 'Annie' is a classic musical that warms your soul.  When I was a kid, I remember watching the Carol Burnett movie version of the musical and loving every moment of it.  This is the type of show that has been around for decades and can still get to the heart of an audience," he said.