Niles West Hosts Second Stand Against Racism Event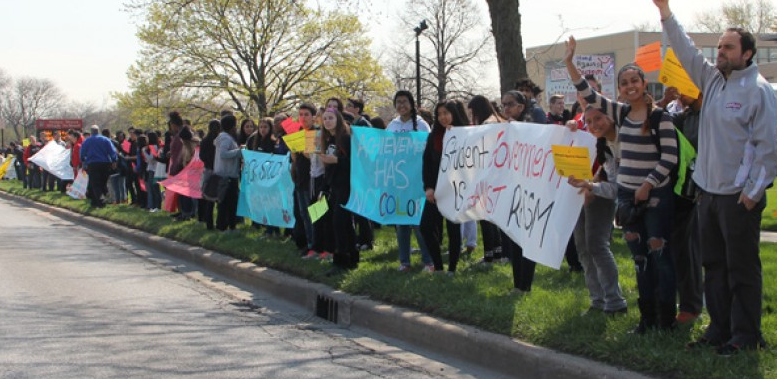 By Thea Gonzales
April 28, 2016
The student body and staff of Niles West will stand against racism for the second year in a school-wide demonstration scheduled for Friday, April 29. During a 45-minute homeroom, a circle of students and faculty will be formed around the school in a visible protest against racial inequality.
This stand is not an isolated event, but is partnered with the national YWCA and local YWCA in Evanston, working to "eliminate racism and empower women." Along with other schools and community organizations, Niles West  and District 219 aim to confront racism in the community and raise awareness about discrimination through discussions and demonstrations.
In the decision to continue the event for a second year, district director of equity Corrie Wallace says that administrators and staff had Niles West's diverse community in mind.
"Since Niles West is known for its diversity, it's important to continue the second annual Stand Against Racism to provide students and the school community with resources to educate themselves and each other about this system of oppression which is a fundamental piece of our country's history. The decision to continue came from staff, faculty and administrators who are committed to developing a deep understanding of the role diversity plays in our school community against the backdrop of discrimination that many people experience based on their skin color," Wallace said.
Though some students still do not understand the point of the school's Stand Against Racism, SOAR advocate and English teacher Dana Des Jardins hopes that this year will bring with it awareness of race relations and camaraderie among the student body.
"Last year, some students felt empowered and others were just confused. This second opportunity invites us to be more intentional about rejecting narrow-mindedness, racism, sexism, ableism, homophobia, and apathy. I hope students look around while they are standing outside and see that they are supported by like-minded people. Sometimes activism can be lonely. At best, students who have felt marginalized might make common cause with other people they didn't know had similar thoughts," Des Jardins said.
Among those supporters of equity is Tammy Wen, a senior who believes that the Stand Against Racism is significant and hopes that it will spread to other schools.
"The school does it because we're a really diverse community and it's important for us to acknowledge that because we all come from different nationalities and ethnicities. In the future, I hope that that there's more awareness about it from other schools; I haven't heard anyone else do it, and I think it's really important," Wen said.
[nggallery id=400 template=galleryview]