West Holds Second Annual Stand Against Racism Event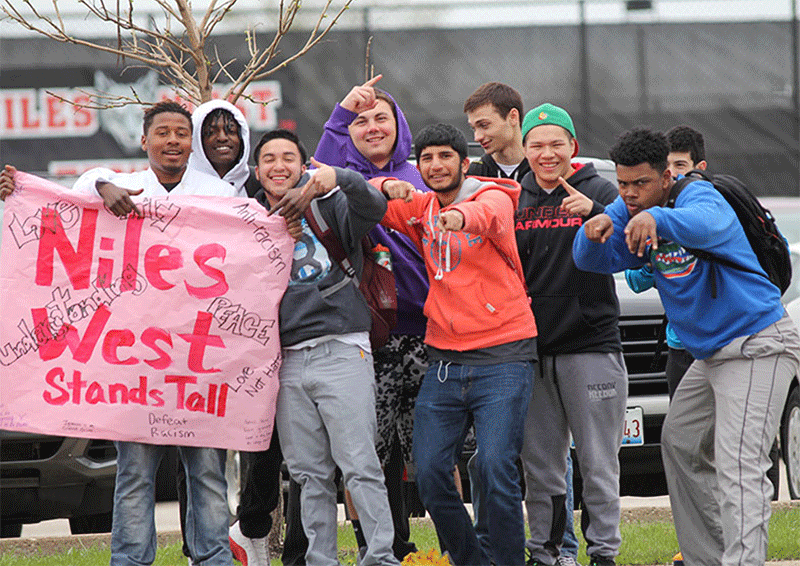 [youtube]https://youtu.be/4PFujyxw5Zo[/youtube]
Niles West held its second annual Stand Against Racism event outside on Friday, April 29 during an extended 45-minute homeroom.
Stand Against Racism is a school-wide event in which students and faculty members stand together outside to symbolically declare their support in the on-going fight against racism in our community and all others. Students made and displayed signs declaring their support for those suffering from discrimination.
One of the event's goals was to highlight the diversity at Niles West, and to bring attention to the significance of that diversity.
"The purpose of the Stand Against Racism event is for us, as a school community, to join with other community organizations (specifically the YWCA in Evanston), because we are such a diverse community," said D219's Director of Equity and ELL Corrie Wallace, who helped organize the event. "This is an opportunity to talk about what that [diversity] really means."
Prior to the event, homeroom teachers had been tasked with teaching a small curriculum to prepare and inform students for the culminating event.
"Based on the feedback we got from last year, we developed a mini-curriculum that all the homeroom teachers got a couple months ago," Wallace said. "The idea was that each week a homeroom teacher would pick a day of the week to share with their students a little video or brief activity about discrimination and bias today."
Niles West principal Jason Ness reiterated the symbolic intentions of the event.
"It's about social justice, and standing up for what's right," Ness said. "It's a symbolic gesture that shows the community that our students are knowledgeable and will stand with each other against injustices that we see on an everyday basis, not just in our community, but across the nation."
Physical Education department head Joaquin Stephenson, who makes a concentrated effort to include lessons about equity and discrimination in his gym classes, highlighted the inclusivity of the event, which promotes the acceptance of all races, as genders, religions, and sexual orientations.
"It means that as a people and as a whole, we stand together in solidarity because this issue doesn't belong to one person or one group of people, it's all of our issue. If we can stand together and stand for all of our causes, it's really important," Stephenson said.
[nggallery id=485 template=galleryview]
Dana DesJardins, an English teacher who had a hand in the organization of this year's event, is of the opinion that this year's event was more highly anticipated, due to the discriminatory discourse that has been rampant in the political sphere for the past several months.
"Students were really looking forward to a chance to react against some of the divisive rhetoric they've been hearing in the political campaigns," DesJardin said. "This is a way of showing that the youth of today are not stuck in the same patterns as their parents."
To some students, the event served as a reminder that racism is not only a thing of the past, but that it is important to recognize it when you see and fight it accordingly.
"I think that it's important that we recognize that racism is a thing that's still going on, and not something which exclusively lives in the past, which is what a lot of curriculums teach us to believe," senior Alex Brown said. "Racism didn't end with the abolition of Jim Crow laws or the Voting Rights Act [of 1965]. It's something that's manifesting itself in a lot of different ways, and the more that we can do to acknowledge and deconstruct that, the better we will be as a society."
However, some students didn't feel that Stand Against Racism was very effective due to the lack of preparation by their homerooms.
"I think the Stand Against Racism was not effective," senior Jimmy Mahoney said. "It was mostly due to the fact that we didn't do anything in our homeroom to prepare leading up to it."
About the Writer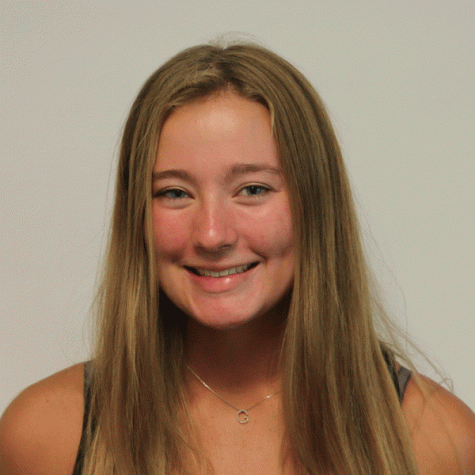 Grace Geraghty, Editor in Chief
Grace is a senior in her third year on Niles West News, where she is the Editorial Editor in Chief. Outside of NWN, she can be found figure skating, at...