Principal's Recognition Award: Erik Cuturic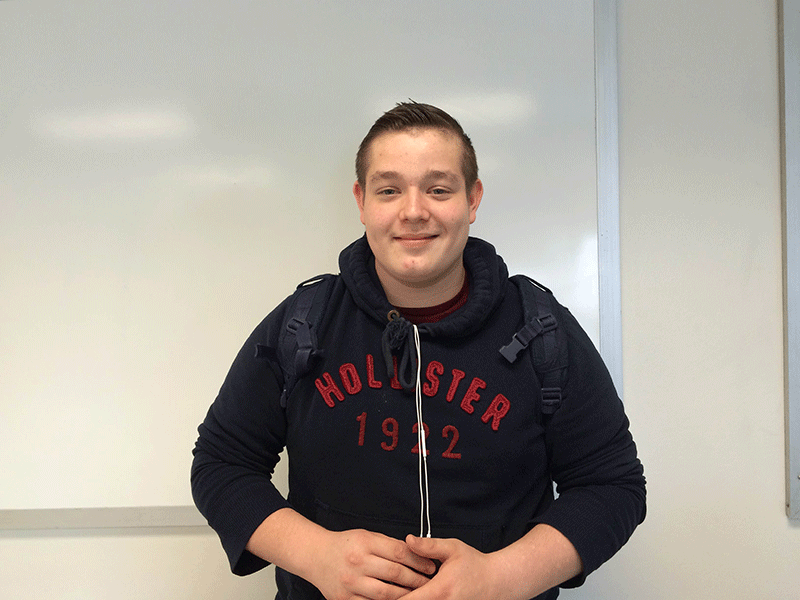 By Thea Gonzales
May 5, 2016
Editor's Note: This is the eighth in a series of 18 stories about this semester's Principal's Recognition Award winners who were recognized on Wednesday, April 20 for outstanding achievement in specific programs. Freshman Erik Cuturic received the Math Award and was nominated by Ms. Sarah Wagner and Mr. John Vana.
Freshman Erik Cuturic— who was recently given the Principal's Recognition Award for math– is the perfect example of how a changed attitude can make all the difference for a student in the classroom. At the beginning of first semester, Cuturic couldn't care less about his algebra I and math extension classes; like many other freshmen, he was unused to the increased rigor of high school academics. But during second semester, Cuturic made some adjustments in his behavior, and the result has so far been successful.
"I used to be really loud and make my classmates laugh first semester. I didn't really take it seriously. But then I failed two classes during first semester. During second semester, I started being active in class discussions: answering questions, asking for help, doing my  homework. Then I just started getting good grades; I changed how I acted in class," Cuturic said.
This complete change became apparent in everything Cuturic did and soon caught the attention of math teacher Sarah Wagner, who was impressed by his transformed character.
"I have seen Erik do a complete 180 this year. Part-way into the second semester, he began taking his classes and studies quite seriously. He now actively participates in class, is consistently completing homework assignments and has succeeded in raising his grades significantly (in some classes he has even improved by 3 letter grades)," Wagner said.
What was behind this new determination? For Cuturic, the motivation was easy to find when his mother offered him an ultimatum: get your grades up or we aren't going to Bosnia.
"I honestly don't know [how I changed], but my mom said that we were going to Bosnia and she said that if I had bad grades, then I couldn't go. And plus, my grandma — I want to see her before she passes away," Cuturic said.
Though his changed mentality has benefited him personally, Cuturic's concentration and perseverance have become infectious to his classmates. Now, he uses what he has learned to help others achieve academic success, creating a refreshing classroom setting for teachers and students alike.
"Erik now volunteers as a tutor during his study hall as well as helping his peers during class.  I think he has motivated other struggling students in his classes.  They have seen his hard work pay off and now they believe that they too can be successful in the classroom with the right attitude and work ethic," math teacher John Vanda said.
Toward the end of the year, it can be easy for students (especially seniors) to lose focus and do more poorly in classes. However, though he is just a freshman, Cuturic's message of hard work is one that can apply to any student at Niles West and away from it: "Don't let anything or anyone hold you back."
Previous installment in the series: 
Negin Motlagharani – https://www.nileswestnews.org/features/principals-recognition-award-negin-motlagharani/