Principal's Recognition Award: Elisabeth Deike
Hang on for a minute...we're trying to find some more stories you might like.
Editor's Note: This is the ninth in a series of 18 stories about this semester's Principal's Recognition Award winners who were recognized on Wednesday, April 20 for outstanding achievement in specific programs. Senior Elisabeth Deike received the Physical Welfare Award and was nominated by Mr. Stephen Ramseyer and Mr. Joaquin Stephenson.
Unlike most students, senior Elisabeth Deike is not one to take gym class lightly. She uses all 42 minutes to focus on her workouts without any distractions.
"I actually work in gym. Most people don't take it seriously. Just enough to pass the class, but I work very hard in class. Mr. Ramseyer even said that I can out do some of the boys and it's mostly a male class so it is a big honor for him to say that," Deike said.
Gym teacher Stephen Ramseyer nominated Elisabeth for this particular award because he feels as if she is an amazing hard worker and she truly does everything she can to better herself.
"I nominated Elisabeth because she is one of my hardest working and intense students in strength and conditioning class. Not a day goes by where Elisabeth does not give 110 percent effort. In a class that is dominated by males, Elisabeth stands out as one of my hardest workers. She has spent her junior and senior years in strength and conditioning. In my 6 years of teaching strength and conditioning I have never had a female take the class 4 straight semesters and work as hard each day as she has done. I can also depend on her helping me with certain activities in class. At times she is my student leader in class. Besides being a great student she is an even better person," Ramseyer said.
Even though Deike is very hardworking, she gains extra motivation from her Physical Welfare teachers: Mr. "Rambo" Ramseyer and Mrs. Pam Foerch.

"I think that Rambo helped me a lot. He makes sure I work, but I also think that Mrs. Foerch helped me a lot as well. I had her first when I started doing strength and conditioning. She really makes me want to keep doing it. Most people won't do the same class for an entire 2 years, but I just loved the class so much," Deike said.
Overall, Deike is really excited for being recognized and receiving an outstanding award. Having this award truly demonstrates the effort she has put into all that she has done. 
"It was a huge honor to be recognized. I never thought that I would ever get such a high, prestige award. I don't have too many awards. I was on the swim team for two years, and I've gotten the athlete of the month award two years ago but I never thought that I would get anything more," Deike said.
She believes that all of her hard work has paid off and everything she has done is finally being recognized. 
Previous installment in the series:
Erik Cuturic – https://www.nileswestnews.org/features/principals-recognition-award-erik-cuturic/
About the Writer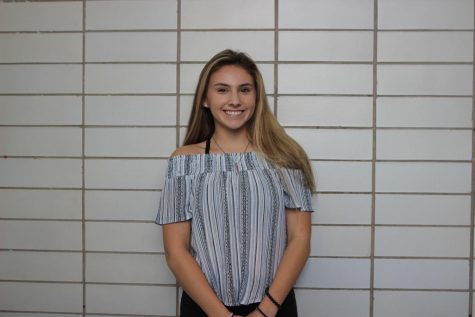 Sophia George, Photo Editor
Sophia is the co-photo editor for Niles West News. She enjoys taking walks in the forest and likes to get fresh air. She is super excited to see what the...