Meet Me in a Minute: Ellena Boudouvas
Hang on for a minute...we're trying to find some more stories you might like.
It was extremely difficult for junior Ellena Boudouvas to choose between two sports she loved — poms and gymnastics. Boudouvas has been practicing gymnastics ever since she was two years old, and started competing at the age of seven. When she finally decided to quit, it was a huge decision.
Not only did Boudouvas enjoy the sport, but she also dedicated most of her life to it, and quitting was a tough choice for her.
"I quit gymnastics because my mom didn't like how much I was injured, and it was overall a huge time commitment. I love gymnastics so much. It was fun and something I really enjoyed doing, but I moved on to a new chapter in my life: poms," Boudouvas said.
Boudouvas enjoys poms just as much as she enjoyed gymnastics. She found her love for dancing during high school.
"I chose to stick with poms because it was more of a team sport instead of an individual sport. Gymnastics is more of a sport where you have to individually do well or you won't succeed as much. Poms is less demanding on my body as well, and it's overall a better sport for me," Boudouvas said.
Not only does Boudouvas focus on her own improvement, but she focuses on her teammates getting better as well. Boudouvas is a positive person who's always spreading positive vibes.
"She's a really go-with-the-flow kind of person; during practice if our coaches tell us to do something tough, she willing to do it and she's always up for the challenge," junior and teammate Katelyn Murakami said. "Ellena always has a smile on her face, and she can always make the team laugh. During practice, if we're giving critiques, she'll give 'compliment sandwiches' because she always wants to end things on a good note."
Boudouvas works hard in everything she does, and she stays positive no matter what. Although Boudouvas had to make a tough decision about whether or not she was going to stick with gymnastics, she made a decision she's happy with, and that's all that matters to her.
About the Writer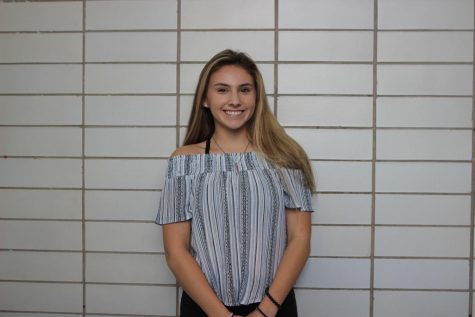 Sophia George, Photo Editor
Sophia is the co-photo editor for Niles West News. She enjoys taking walks in the forest and likes to get fresh air. She is super excited to see what the...