Meet Me in a Minute: Emily Mendieta
Most people focus on the merits of student athletes, cheering for every touchdown, goal, spike, and record broken. Little do they realize that the people behind the scenes are working just as hard in order for the athletes to perform their best. Sophomore Emily Mendieta, a student athletic trainer, knows about this first hand.
"It's a lot of fun. You get to learn about different types of common injuries and how to deal with them," Mendieta said. "When someone comes in, the trainers teach you all about anatomy and everything else we need to know. I feel like it's a great learning experience."
While the occasional injury happens during a game, the majority of students come during the first 10 minutes after school ends.
"All of a sudden when the bell rings, kids start flooding in. It's definitely the busiest time for all of us. We're basically all over the place trying to help everyone before their practice or game starts. It's mostly just wrapping and dealing with the little things. After that, the people that are left are those with more serious injuries that have to go through physical therapy. They'll do their exercises and we help them get better," Mendieta said.
Not only is Mendieta actively dedicated to helping out our fellow Wolves, but she is trying to get more people involved. Not many kids know that they can be a part of the student trainers, even if you participate in sports or other activities.
"I would say that it's more than just a club. You meet three days a week, depending on which ones you choose. You usually stay until 5 or 5:30 p.m. If you are involved in a sport you can still be a trainer; You would just have to come during your off-season," Mendieta said.
Other students have started to become interested in what being a student trainer is like.
"Emily helped spark my interest in becoming a trainer. I didn't even know the club existed," sophomore Julia Matuszek said. "She knew that I want to go to SLU for their six-year physical therapy program, so she encouraged me to join."
Fellow trainer Nina Gillespie had only kind words to say about Mendieta.
"We don't really have any classes together, so it's nice to be able to hang out with her while doing something we're both interested in. We work together to learn new things about sports medicine," Gillespie said. "Emily is also super hardworking. She has been currently focused on becoming certified in the three different types of wraps."
For those interested in joining, Mendieta has words of advice.
"While it is really fun, you have to take it seriously. Don't just do it for the friends, you have to be committed to whatever you're doing," Mendieta said.
Mendieta will be a part of the sports medicine club during the rest of the fall and winter seasons. She is looking forward to helping get athletes back on their feet and onto the field.
About the Writer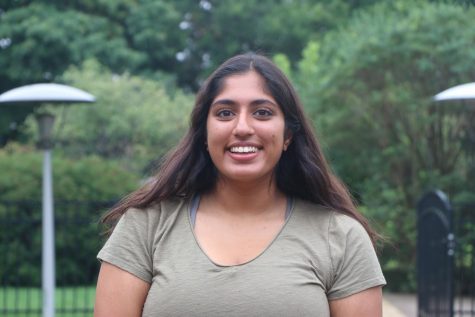 Divitya Vakil, Editor in Chief
When she's not writing for the NWN, Divitya can probably be found on the nearest couch taking a nap or binge-watching movies on Netflix. She loves playing...